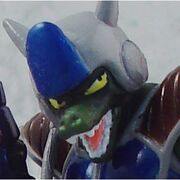 There are currently a total of 2 Blueberry collectibles that have been released to date. A gallery and the attached information appends to the official releases and genuine specifics in regards to the additional merchandise pertaining to each release.
Banpresto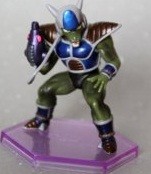 Freeza's Force Series Volume 3
Release date: 2010
A genuine collection offered by Banpresto is the "Freeza's Force" series, which includes almost all of Frieza's military regiment along with his remarkable spaceship. Some figures in this set are only available as a part of this series and are extremely rare. Blueberry appears once in this series. His figure in this set was released on May 25, 2010 and is collectible number 015 in this very large assortment. This figurine comes with one arm holding a galactic blaster cannon with connective pulse tube and his genuine battle helmet. He is in a prepared stance, awaiting to unleash the fury of his blaster, as he keeps it holstered to the side. Standing at 6 cm and coming with a unique base, Blueberry is ready to find the remaining Dragon Balls. Much like the entire set, the figure is detailed in a glossy and shiny look. Others included in this same set are Appule, Raspberry, Frieza in his first form, and Frieza in his second form.

WCF Frieza Special Edition Volume 2
Release date: 2015
A set of WCF figures has been announced as a special edition tribute for the Frieza saga scheduled for late 2015. This is the Volume 2 set and incorporates six additional pieces for the Frieza special edition tribute. Included in this Dragon Ball WCF [World Collectable Figure] Special Frieza Edition series are the following pieces: A) Frieza in his final form with full power, B) Cyborg Frieza, C) Golden Frieza, D) King Cold, E) Cooler, and F) Blueberry. Each piece stands at approximately 7 cm. Each comes atop a round base for this set. Blueberry is seen maintaining a combat-ready stance while he holds his blaster gun.
Gallery
Community content is available under
CC-BY-SA
unless otherwise noted.