Baseball Uniform is a type of clothing worn by baseball players as their team uniform.
Overview
Baseball Uniforms are worn by various baseball teams such as the Galactic Little League, Taitans, Team Universe 6, and Team Universe 7. Most baseball uniforms feature the teams name or logo on their chest while a two-digit number appears printed on the back.
Some Baseball Uniforms feature a corresponding baseball cap. It should be noted that baseball caps are also popular as a form of casual clothing. Arale Norimaki, Krillin, Piccolo, and Android 13 have all been known to wear baseball caps as regular hats.
Usage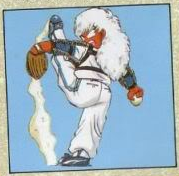 During his youth, Jeice wore the Galactic Little League's Baseball Uniform where he was the team's pitcher, during which time he developed his signature Crusher Ball technique.
In Dragon Ball Z Saiyan Saga Filler, Yamcha wears his Baseball Uniform while working as a part-time member of the Taitans. Additionally he also wears it after being freed of the effects of Black Water Mist during the Garlic Jr. Saga filler episode, "Krillin's Proposal".
In Dragon Ball Super, an argument between the twin Gods of Destruction Champa and Beerus leads to a baseball game between Team Universe 6 and Team Universe 7 complete with Baseball Uniforms for Universe 6 and Universe 7. However only Yamcha wears the Universe 7 Baseball Cap as Piccolo chooses to wear his Turban, while Gohan wears his glasses. The Universe 6 Baseball Uniform's seem to lack baseball caps entirely. Additionally due to Team Universe 6 having less players (as Frost was on the run and Hit was unavailable), Goten and Vegeta acted as members of Team Universe 6. In the "The Super Warriors Gather!", Yamcha can be seen wearing his Universe 7 Baseball Uniform while revealing that he has kept up with his training.
Video Game Appearances
In Xenoverse 2, several types of Baseball Uniforms can be obtained by the Future Warrior. In addition to the uniforms, two feature Baseball caps as accessories.
In Dragon Ball Legends, Yamcha in his Taitans Uniform is a playable character known as Taitans Yamcha who can be obtained in the "Yamcha's HomeRun Derby Event". Also, through the event's exchange shop, the player can obtain Yamcha's Uniform as a costume for Shallot.
Gallery
References