This article is about the
real world.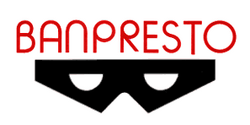 Banpresto is a manufacturer responsible for numerous Dragon Ball releases. The first Unifive SofVi figurines (5" scale) were released by Banpresto as a UFO catcher line of figures simultaneously in 2003 and 2004. These figures are immobile as their feet do not turn and the articulation is limited. However, the initial paint job and design is remarkable.
Following the initial releases, Banpresto also released highly detailed keychain figures in October 2008. The figures stand at approximately 3 inches tall.
Banpresto continued its involvement with the Dragon Ball license with a miniature series released in 2009. These figurines come boxed and in their own authentic case with the character image in front, as do all the other figurines in this set. They stand at 8 cm.
Banpresto has also released quite a few figures for the "Dragon Ball Creatures" series. This series is likely the most highly detailed and sculpted in a monstrous fashion, showcasing the brutal aspects of the series' villains. Released in 2009, and approximately 5 inches tall, this line debuted with the "Creatures" lineup displaying a savage and feral posture for the characters. The figure size is also distinguished as they are quite tall (some standing at about 7 inches). There is heavy detail on the clothes, but the skin and coloring texture is made in a demonic way to highlight the ferocious characters.
After the Creatures series, Banpresto has released another set 2009 known as the "HighSpec Coloring Figure (HSCF)" assortment. The paint job, unlike any previous releases, is extremely shiny and is a perfect likeness, reminiscent more toward the cel-shaded art of the recent game franchises. These figures come in their usual and most common postures that they are known for in the series.
Also released in 2009 by Banpresto is a basic Dragon Ball Kai keyholder set. The keychains are miniature but are rather well-crafted for their size.
Banpresto has also released the "High Quality DX Figure" series in 2010. These figures come (much like the High Spec Coloring Figure) in famous postures and are quite large-scale, standing at about 7 inches. The difference in this specific set and the aforementioned High Spec pieces is the coloring scheme. In this HQ DX piece, the paint job is very exquisite and the likeness is uncanny, although the paint job is less shiny and closer to the series' anime look.
A genuine collection offered by Banpresto is the "Freeza's Force" series, which includes almost all of Frieza's military regiment along with his remarkable spaceship. Some figures in this set are only available as a part of this series and are extremely rare. Released in 2010 and highly collectible, this is a very large assortment of villains. The entire set has been given the glossy and shiny look in terms of the paint job.
Community content is available under
CC-BY-SA
unless otherwise noted.