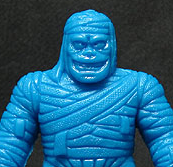 There are currently a total of 2 Bandages the Mummy (also known as Mummy Man) collectibles that have been released to date by numerous companies. A gallery and the attached information appends to the official release and genuine specifics in regards to the additional merchandise pertaining to each release.
Bandai
Dorakeshi Keshi-Gomu DB Part 2
Release date: Unknown
In the 90's, a series of miniature quarter-priced rubber machine toys was released, much like the Ultimate Muscle series and coming in randomized colors. They are known as Dorakeshi Keshi-Gomu and are rather hard to come by. All characters in this set came in a random color and all of them were very tiny and immobile. Bandages the Mummy appears once in this miniature set, although the same mold appears in numerous colors, such as red or yellow. The mini rubber figurine comes with both arms extended downward and kept to his sides as he maintains a sinister laughing expression.
Plex

Dragon Ball Anime Heroes series Part 2
Release date: 2007
Plex has released an assortment of basic figures in the "Mini Big Head" style. Released in October 2007, this assortment, entitled "Anime Heroes" Part 2 has a wide variety of characters, including Bandages the Mummy. This Bandages mini figure comes with a basic attack stance, with both hands in an open posture and a mean smile running across his face. The mini figurines go for a rather adorable and cute look. The figurines in this set stand at about 4.5 cm (1.7 inches).
Gallery