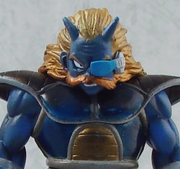 There is currently a total of 1 Banan (バナン) collectible that has been released to date. A gallery and the attached information appends to the official releases and genuine specifics in regards to the additional merchandise pertaining to each release.
Banpresto
Freeza's Force Series IV
Release date: 2010
The Banan figure in the "Freeza's Force" series was released a part of the Series IV installment. Released on May 25, 2010, the figure is number 019 in the set and is also painted in the shiny, glossy method. The box art details the figure in the front, depicting the set as "Freeza's Force IV" and highlights the others included in the same set. The figure stands in an upright position and comes with a pink base to stand on, much like the rest of the series. The figure is seen standing in a deadly position, maintaining his overconfident stature and a mean glare. This is likely a good piece for any collection as it is the only basic figure scale piece available for Banan. Other characters included in this same Series IV set are Zarbon transformed, Frieza in his third form, Frieza in his final form, and Sūi.
Gallery