Auto Wiki Browser is a malacious tool used by Anemicne. No good can come from it. Pls make him stop using it.
The Angels of Hell are a group of five angels that live in Hell.
Background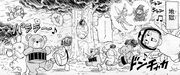 In the movie Dragon Ball Z: Resurrection 'F', the Angels of Hell are responsible for watching over Frieza locked in a cocoon in Hell. However, he is revived by Sorbet and Tagoma after using the Dragon Balls. After the credits for the movie, the Angels of Hell are seen laughing and welcoming back Frieza as he returns back to Hell after being defeated by Goku.
Trivia