Directory: Characters → Villains → Former villains → Dragon Team
"Whoever owns these clothes should have their optic sensors adjusted. They are obviously malfunctioning."
— "Time Chamber"

Android 18 (人造人間18号, Jinzōningen Jū Hachi-Gō), originally named Lazuli (ラズリ, Razuri)[4] when she was an ordinary human, is the older twin sister of Android 17 and Dr. Gero's eighteenth android creation, designed to serve Gero's vendetta against Goku. While her interests do not initially deviate from this expectation, her curiosity to activate Android 16, in spite of Gero's orders not to do so, leads Android 17 to take it upon himself to murder Gero. Eventually, Android 18 becomes a member of the Z Fighters, as well as the wife of Krillin and the mother of their daughter Marron.
Appearance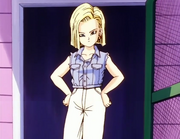 Android 18 is a slender, curvy and beautiful woman of above-average height and fair complexion. She has shoulder-length blonde hair, although its specific shade varied between light/golden[5][6][7] or platinum[5][8] that parts over her left temple, which she generally keeps tucked behind her ear. She consistently wears small gold hoop earrings on both ears. Her hair is apparently natural due to her not minding too much when Future Trunks sliced parts of it off during his fight with her (in stark contrast to her future counterpart, who in the English dub threatened him for cutting off portions of her hair and claimed it could not grow back). She has a fairly small chest in the manga, while in the anime, her chest was implied to be large enough that Master Roshi after their plane crashed took the opportunity to plant his face in her bosom and motion his face around, leading to her nearly killing him. In the Androids Saga when she is first activated by Dr. Gero, she wears a blue denim vest and skirt (with the Red Ribbon logo on the back of the vest) with dark blue tights, a brown belt, brown boots, and a black shirt that has white and black striped long sleeves. After her clothes were ruined in her battle against Vegeta, she changes to a western-style outfit consisting of a brown armor vest and skirt with dark navy leggings, a blue-green long sleeve turtleneck shirt, and brown cowboy boots. Later when the androids arrive at Goku's House and throughout the Cell Saga, she wears a black mini vest with a golden triangle pin, a white short sleeve undershirt with a pearl necklace, dark teal jeans with a golden chain, a brown belt, a pair of short black gloves with a gold bracelet on the left one, and black flats with orange socks.
When she is married to Krillin and living at Kame House, she wears a pale blue buttoned-up denim vest, white jeans, red hoop earrings along with a red bracelet on her left hand, and black flip-flops. Her blue eyes had a slightly darker coloration than last time. Later, at the World Martial Arts Tournament and throughout the Buu Saga, she wears a black shirt with white and black striped long sleeves, blue jeans, a brown belt, and black flats with orange socks. It is noticeable that this outfit incorporates between her first outfit in the Androids Saga and her third outfit in the Cell Saga as the shirt, belt, and color scheme is taken from her first outfit, while the jeans and flats are taken from her third outfit.
In Dragon Ball Z: Battle of Gods, her outfit in the World Tournament Saga has some minor changes. The color of her black shirt has been changed to dark indigo along with the black and white stripe sleeves being recolored to purple. Additionally, the color of her jeans has been changed to pale blue and is slightly shorter while the color of her hoop earrings has been changed from red to silver. Lastly, the color of her socks has been changed to white with the upper portion no longer being rolled up, and her black flats has been changed to dark indigo and no longer contains the tie. She also wears a pearl necklace identical to the one she wore during the Cell arcs, only it was embedded with a thunder pendant, she now possesses blue-green eyes as opposed to her original blue.
In Dragon Ball Z: Resurrection 'F', her appearance remains largely the same as Dragon Ball Z: Battle of Gods with the only noticeable changes being she no longer wears a pearl necklace along with the cuffs of her shirt and sleeves being colored white and now wears blue boots. Additionally, the bottom of her shirt no longer appears to be tucked in, now concealing her belt.
At the end of Dragon Ball Z, she cuts her hair shorter which resembles Bulma's bowl-cut hairstyle from the Majin Buu saga and wears fashionable business attire. Her outfit is a red sleeveless shirt, pale yellow business pants, the pale gold hoop earrings she had initially worn during the Androids and Cell arcs, the same gold bracelet on her left wrist which she had worn during the Cell arc, and brown flats. She also wears the pearl necklace that she previously wore during Imperfect Cell Saga and the Cell Games.
Her main look in the Peaceful World Saga was retained for the upcoming movie Dragon Ball Super: Super Hero, and wears her tracksuit in the Universe Survival Saga but with minor changes. Her jacket is magenta, her trousers resembling a sports capri which is light grey with pink linings. She also retains her grey shoes with white soles and fuschia pink socks.
For the Universe Survival Saga, she wears a pink tracksuit identical to Gohan's during Frieza's invasion of Earth, and grey shoes with white soles.
In Dragon Ball GT while being the servant of Baby and later cured with the Sacred Water, she wears a red long sleeve turtleneck shirt, black pants, silver hoop earrings, pearl necklace and red flats. Her short hair had finally grown out and was styled into a short bob.
In Super 17 saga, she wears a purple business suit jacket with a pink short sleeve undershirt, purple business pants, gold hoop earrings, pearl necklace and red heels. She also retains her hairstyle from the end of Dragon Ball Z. While facing her twin brother for the second time, she was later seen without her business suit jacket and the pearl necklace on her neck as a black strapless bra is shown underneath her pink short sleeve shirt after she angrily rips half of her shirt while taunting her twin brother to kill her.
At the end of Dragon Ball GT, she was seen wearing her pink short sleeve shirt, reddish brown pants, and red flats.
Personality
Like her brother, Android 18 usually displays a cool and confident character, especially in battle, although her sarcastic humor is the most prominent trait of her personality. This is demonstrated when Goku takes notice of her assembly with the Dragon Team at the 25th World Martial Arts Tournament, leading to the retort "Look, he noticed. How cute." (in Japanese she says "Took you a while idiot!"), as well as saying "Spare me" when Krillin reveals to Goku that not only have they married, but also had a child. Shortly after this, she is asked by the World Tournament Announcer if her real name is legitimately "No. 18", to which she responds "My father was pretty dull" (in Japanese, she replies that "It doesn't matter" before tossing the number at the World Tournament Announcer). Although she isn't characterized for this, 18 can be very curious if she is really interested in something, to the point of activating her comrade Android 16, and wondering what present she will give to her husband Krillin during a dispute of a wish with the others using the Dragon Balls. She often expresses herself in her cool and downplayed manner well into her marriage with Krillin, often smiling in a somewhat subdued fashion that conveys her very laid-back personality, in Super, however, she is often seen smiling. However, 18's sense of humor is not always tactful, as she jokingly expressed to Future Trunks that she wanted reimbursement for him killing her alternate universe counterpart, much to Future Trunks' displeasure. This is a rare instance where Android 18's humor was anything but tactful, as per her usual timing. This failure is likely due to Android 18 being unaware how murderous her counterpart was and how much Future Trunks had suffered because of it, as she likely would have been more sensitive had she known the full extent of the destruction and suffering caused by her and her brother's counterparts. She is also shown to be rather prideful, though not to the same extent as her brother had been during the Imperfect Cell Saga.
As an older sister and delinquent, and later as a wife and martial artist, Android 18 is shown to be outwardly commanding, insisting that she and her brother 17, and later she and Krillin, have to make strides to improve the family's financial situation, insisting Krillin to join the Tournament for the prize money, forcing Mr. Satan into a deal about giving her 20 million Zeni to the point of destroying his property and multiplying the prize money a hundred-fold, wanting Shenron to grant her wish for a present for Krillin, and initially saying that she would only fight at the Tournament of Power if she gains money for it although she later decides to enter because she suspects that the tournament is not really a game. In Dragon Ball Z: Supersonic Warriors, Android 18 is hinted to dislike driving solely because of Android 17's insistence on driving around aimlessly without anything better to do. However, 18 still exhibits some of her sensitivity and even protective side, especially towards her twin brother, daughter, and husband. This is in stark contrast to her alternate self from Future Trunks' timeline, where she is a murderous sociopath who cares for no one but herself and her brother though this is mainly due to the fact that Future Dr. Gero had altered Future 17 and 18 to hate humanity, which never occurred in the main timeline. 18 also possesses a vast distaste if not outright hatred of violence against children, to the point that after witnessing Lord Beerus's attacks against Gotenks she lost her temper and proceeded to assault him, despite his decisively superior power. This is likely due to her instincts as a mother and fondness for her friends' children despite being frequently annoyed by the underage Super Saiyans. Unlike her brother, she, like Goku and any other fighter, sometimes has the tendency to let her guard down during battle, allowing her opponents to take advantage, primarily because of her cool and laid-back attitude, as demonstrated by Shosa in the tournament.
Like her brother, she developed hatred towards Dr. Gero for modifying them against their will, though interestingly, she still uses the name No. 18 instead of her original name Lazuli and in the dub even sarcastically refers to Dr. Gero as her father (as he was the one who gave her the name No. 18) when asked about her name during the World Tournament. It was this shared hatred of Gero that convinced 18 that Cell was only imitating 17's voice to trick her. Though she lacks her future counterpart's sociopathic and murderous personality, she does share her counterpart's love of shopping and interest in fashion, as well as taking care in maintaining her appearance and dislikes having her clothing or hair damaged in battle. In the anime, she is shown to dislike Chi-Chi's Chinese dresses while trying her clothes when the Androids come to Goku's House looking for Goku. This is in contrast with her future counterpart who had no problem with the Chinese dresses she tried on while shopping for clothes during The History of Trunks special, showing that she and her counterpart apparently have different tastes in fashion.
By the time of Dragon Ball Super, Android 18 seems to have grown kinder and compassionate, is often seen smiling and is closer to Krillin and Marron compared to Z, where she is shown always folding her arms and looking withdrawn from the characters (like Vegeta and Piccolo, with the former before being accustomed to earthly society), only smiling when she sees her daughter and participating in some activities with the characters, like in the God of Destruction Beerus Saga, she participates in the bingo tournament. When she encounters Future Trunks after so many years, she is shown to be more kind and friendly to him than the last time they met, giving him a fist and joking about her future self's death. Android 18's close relationship with Krillin had led her to want to give a present for him, which she wanted to use the Dragon Balls to wish for a present, when Bulma told #18 that having her and Marron is better than having any present, she was struck with flattery, causing her face to blush, implying that she really loves her husband, and even cheers for him during Universe 6 and Universe 7's baseball match. In addition, she also ended up joining the Tournament of Power, not due to money, but because she suspected from both the increasing prize money, Goku and Gohan's increasingly desperate offers to have them join, and Gohan's serious disposition that the results if they lost the tournament would be very severe. However, she is cold towards her brother after reuniting with him for the tournament and tells Krillin not to force it when he tries to break the ice by initiating a friendly conversation with his brother-in-law. She also threatened to kill her brother if he mispronounced Marron's name as "Maron" a second time (however this may be due to it reminding her of Krillin's ex-girlfriend Maron, or it could have been a sanctimonious, empty threat), indicating that she and her brother have grown distant since the Imperfect Cell Saga.
Despite this, both siblings are still capable working well together as a team during the Tournament of Power and even strategize together to take advantage of their infinite stamina. Android 18 also nevertheless still deeply cared for him, as she was very distraught when he seemingly killed himself to save Goku and Vegeta along with Universe 7. In Xenoverse 2, she states she has been working with Krillin on attack coordination and that it reminds her of the old days fighting alongside her brother, though notes that she and 17 would never actually try and attack deliberately together, as they simply just naturally had good timing due to being twin siblings. However she notes that it is not the same with Krillin as she needs to focus more on Krillin and use more concentration when coordinating her attacks with his, though she doesn't mind it really.
However, she still at times retains some of her original cool nature, as evidenced by the Peaceful World Saga, where she offhandedly mentioned that even the likes of Krillin could beat Wild Tiger after seeing Pan beat him.
In the events in Dragon Ball GT, Android 18 has a very close attachment to her now older daughter, Marron and protects her when she is in danger. When Krillin was killed by her brother, Android 17 due to Hell Fighter 17's control, Android 18 emotionally cries over her husband's death despite being a cyborg and admitting she loves him as she shows her vengeful rage to her brother for what he had done. When she confronts her brother for the second time, she smiles at Goku due to his friendship with her husband as she assists him to avenge Krillin's death.
She was also shown to be aware of Goku's quirk of using his tail to touch the crotches of females to determine their gender, which humorously led to a confrontation between the two in Shin Budokai where she attempted to fight him off largely because she didn't want him to do that, despite Goku assuring her that he outgrew that trait.
Relationship with Krillin
Android 18 and Krillin's relationship began as a mutual yet unspoken attraction despite their meeting as enemies in battle, as she spared his life and gave him a kiss on the cheek. It is unknown if Krillin had feelings before this kiss or if he developed a crush on her from that point on. Afterward, by the time he could have shut her down with Bulma's remote control device, Krillin's feelings had already progressed to the point that he chose instead to smash the controller and warn her of Cell's approach despite the danger this presented to the world. Just before her absorption, 18, after hearing Krillin being knocked away by Cell, attacked Cell in a fury and denounced the latter as a monster, despite being rendered temporarily blind earlier due to Cell's use of Solar Flare. Following the battle with Cell, Krillin used the Dragon Balls to remove the bombs implanted in 18 and 17 in a selfless act he believed would allow them to live happily together. 18 angrily corrected him on the fact that 17 is her brother, not her boyfriend, before leaving, flattered by Krillin's feelings.
Krillin's courtship of 18 beyond was not shown but it is clear, by the time Majin Buu surfaced, that 18 had consented to marry Krillin and even had a daughter with him. Despite openly requesting to improve her family's financial situation, 18 inwardly admired her husband intensely, once stating that he was "So cool" as he flew away. She is also seen tending to his wounds after his mock-fight with Goku with a gentle smile on her face. As parents, both 18 and Krillin were shown to be intensely protective of their daughter Marron. In the Majin Buu Saga, Battle Of Gods Saga, and Resurrection F saga examples were shown of one or both of them focused on who will protect their daughter before major battles.
It has been shown that 18 is an emotionally supportive wife, offering kind words and wisdom to Krillin in his moments of self-doubt, such as when Krillin wondered if giving up martial arts was the right thing to do, but when Marron walked up to and smiled at them, 18 told him as she tended his wounds that he was exactly where he belonged. 18 also can be playful and works well with Krillin in many situations, both in combat and in leisure. One humorous instance of this was seen on the Lookout, with 18 helping Krillin in a card game against Master Roshi, with 18 giving him directions from behind Roshi's back through head gestures.
18 is shown to have a somewhat difficult time expressing her affections towards her husband, as she intended on one occasion to use Shenron to wish for the perfect gift for Krillin. Upon receiving a heart-to-heart conversation from Bulma, 18 realized that she and Marron were all that Krillin needed to be happy, bringing 18 to a new level of understanding towards her husband, deeply touched by Bulma's words and kindness towards her. 18 is also known to worry about Krillin's safety due to his job as a police officer, as he has been known to suffer bullet wounds despite his superhuman conditioning and abilities. 18 is clearly devoted and dedicated to Krillin's happiness and well being due to this tendency of hers. However she does have a bit of a jealous streak as shown in the Bio-Broly film when the researcher Nain hugs onto Krillin as they fly her and her colleagues to safety as Mei Queen Castle fills with Culture Fluid, Android 18 notices him blushing as Nain hugs him causing her to coldly push Nain and Krillin away while telling them to hurry up and go, though neither are hurt by this. This jealous streak also implied by her reactions to Zangya's comments about Krillin being cute in the Budokai Tenkaichi series. It is also implied in the Dragon Ball Super anime she may be aware of Krillin's ex-girlfriend Maron, given she angrily threatens her brother when he mispronounces her daughter Marron's name as Maron.
On a similar note, Krillin also told 18 about some of his fights in his youth, which is implied in a special match between 18 and General Blue in Budokai Tenkaichi 3 where she immediately recognizes Blue due to hearing about him from Krillin, and specifically said her husband referred to the infamous Red Ribbon Army general as "the weird guy" (presumably referring to Blue's homosexuality), causing Blue to become angered at the remark and threaten her.
In Dragon Ball FighterZ, Android 18 is torn emotionally when Android 21 (when overcome by her evil persona) orders her to fight with Krillin though she agrees to prevent Android 21 from attacking him. She orders the soul inside her not to kill Krillin and they manage to defeat Krillin without killing him though Android 21 loses control of her cravings, forcing Android 18 to have the soul inside her link with Android 21 to stop her from eating Krillin. After subduing her, they leave Krillin behind to learn more about Android 21 who Android 18, 17, and 16 resolve to help overcome her evil side. After 21's fission into her good and evil halves following the death of 16, Android 18 is relieved when Krillin arrives to save her and the good Android 21 from the evil 21. She is touched when Krillin admits he realized she had gone easy on him when they fought and correctly assumed she had own reasons for helping 21. She is not surprised when Goku and Krillin want to help the good Android 21 stop her evil counterpart. Android 18 is also shown to have developed animosity towards Frieza for his murder of Krillin in the past, which even extends to the Clone Friezas as she convinces the good 21 and her brother to help her avenge Krillin by killing a Frieza clone they encounter much to good Android 21's confusion as she recognizes that Android 18's desire to avenge Krillin by killing a Clone Frieza is itself irrational as it is not the true Frieza. Presumably, she would hold similar animosity towards Tambourine as well as Super Buu (though in Super Buu's case, it would likely be greater as he killed both her husband and daughter, as well as 18 herself). Though Android 18 loves her husband, in a special conversation between Krillin and Yamcha in which Yamcha mistakenly assumes that Krillin has a thing for female Androids due to Krillin agreeing with Yamcha that 21 is attractive, Android 18 overhears Yamcha's careless remarks, causing her to comically seethe with anger and glare sinisterly at both Krillin and Yamcha who are so terrified they do not dare turn around and instead focus on fighting the enemy, hoping that 18 will go easy on them afterwards. However, Krillin himself is shown in FighterZ to love Android 18 and is enraged when he sees her injured in the Super Warrior Arc and Enemy Warrior Arc, to the point he is willing to bravely confront the likes of Perfect Cell (and Frieza, the Ginyu Force, and Nappa in the Enemy Warrior Arc) and is shown to be protective of her, though he can be overprotective as he is reluctant to allow her to work with her brother, 16, and Android 21 because he was not trusting 21, owing to her association with the Red Ribbon Army, though after she holds back against him he, understands she had her reasons for doing so and ends up coming to her rescue when she, 17, and good 21 confront the evil 21, having learned what was going on from Dende while staying on The Lookout.
Dragon Ball GT showed an even softer side of Android 18. When 17 returned in a brainwashed state and attempted to compel 18 to join him, Krillin was able to break the mind control. 18 was distraught enough over her husband's subsequent death to attack her own brother in a rage and it was a combined attempt to avenge Krillin that helped 18 and Goku finally put aside their differences and become friends.
Biography
Background
Android 18 was originally a human named Lazuli,[4] and the elder out of her and her twin brother, Lapis.[9] The twins were notorious delinquents, whom Dr. Gero would meet by chance while looking for fresh material for his experiments. He then kidnapped them and restructured them into Android 18 and Android 17.[10] However, despite being referred to as androids or cyborgs and commonly regarded as such, both Android 18 and her brother are practically neither. Bulma stated while looking at 17's blueprint that he was human-based, but just about everything has been enhanced with bio-organic components.[11] Their only mechanical parts are the emergency deactivation controller, a self-destruction device (removed), and a small perpetual energy reactor that provides them with inexhaustible energy and stamina.[12]
Dragon Ball Super reaffirms this, with Gohan stating that the androids have been modified on a cellular level to be superhuman.[13] She is the second artificial human, between her and her twin brother. Gero's experiments on her do not impede her ability to reproduce, as evidenced by her giving birth to a healthy daughter, Marron.[4]
Dragon Ball Z
Androids Saga
Main article: Androids Saga
When Dr. Gero arrives at his laboratory (after he and Android 19 fail to combat the Dragon Team, with 19 getting destroyed by Vegeta), he activates Android 17 and Android 18. Initially, 17 and 18 feigned obedience to the doctor because he carried an emergency Shut Down Remote as a fail-safe against them. Soon after, the Z Fighters arrive and attempt to break into the laboratory. This momentarily distracts Gero, and 17 steals the remote from him. Much to Gero's horror, 17 crushes the remote and tells Gero that he will not put them to sleep again. Suddenly, Vegeta blasts the door down and the androids are surrounded by the Z Fighters. Dr. Gero tells Android 18 and Android 17 to kill the Z Fighters, mentioning that they destroyed Android 19 and almost killed him. Android 17 asks if 19 was an energy absorption model and the one who converted him into android, and Gero replies that he was. Android 18 asks if Gero went back to the old energy absorption model on a more recent android because infinite energy models like she and Android 17 were too powerful to control. Dr. Gero tells them that it does not matter now, and orders the pair to kill the Z Fighters, but 17 says that they will fight when they want. Gero is even more upset when Android 18 begins inspecting a chamber labeled "16". Android 18 notices that 16 is also an infinite energy model and asks how the android inside is different from them, but Gero tells her to get away from 16's chamber. Android 17 and Android 18 want to activate him but Dr. Gero refuses. Android 17 impales Gero's chest, decapitates him and squashes his head, when he severely scolds 18. Android 17 again tells Android 18 to activate Android 16, but a desperate Future Trunks says that he will not let there be any more androids, and transforms into a Super Saiyan before firing a Buster Cannon into the lab. When the smoke clears, Gero's lab is destroyed. However, Vegeta tells Future Trunks that the blast was pointless, as Android 17, Android 18, and the chamber containing Android 16 have survived.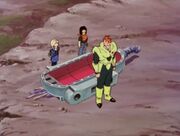 17 suggests they open the chamber at once, as its support systems were disconnected. Once he is activated, 17 asks Android 16 what it feels like to be free for the first time in years, and tells him that Dr. Gero warned them not to activate him, saying he would destroy them all. 18 asks what Gero meant, but Android 16 does not respond. 17 then asks Android 16 whether he does not want to tell them or whether he is just the strong, silent type, but Android 16 still says nothing. 17 then asks if Android 16 was created to kill Goku, and Android 16 simply says yes. 17 says that he hates the idea of following Gero's programming, but feels that they need a sense of purpose. 17 and 18 decide to find and challenge Goku, not because they have been commanded to do so, but merely as a form of entertainment. The three androids leave the ruined laboratory to find Goku, ignoring the present Z Fighters.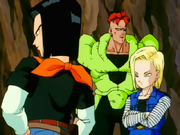 As the androids pass over a mountain road, Android 17 decides to land, and Android 18 and Android 16 follow suit. 18 asks why they have landed, and 17 says that there is no rush, and they might as well enjoy the trip. 18 asks if they are going to walk, but 17 says that when a car passes by, they will take it. 18 says that Android 17 is still part human, as he has the male love of pointless amusement. Android 17 asks Android 16 if he understands, since he was created from a human male too. Android 16 then reveals that he was never a human, making him fundamentally different from Android 17 and Android 18. When Vegeta in his Super Saiyan form intercepts the trio, 17 and 18 implore 16 to step in and fight, interested to see him in action, as that was their main purpose for activating him in the first place. However, Android 16 refuses to fight him, thus prompting Android 18 to volunteer.
Throughout the battle, Vegeta gains some hits, but Android 18 keeps with him blow for blow. Vegeta tells her that he can't tell how much damage she has sustained, and he then says that he will just have to vaporize her. Just then, a truck drives up behind Android 18, and the driver tells Android 18 and Vegeta to get out of the road. Vegeta fires a Ki Blast at Android 18, who jumps into the air, causing the blast to hit the truck. The truck is destroyed, and Android 18 lands on the other side of Vegeta. He tells her that she is quicker than he thought, but she replies that he was not using full power. Vegeta says that if he did, the entire Earth would be gone, and 18 says that she is holding back as well. Vegeta tells her not to, if she wants to have any chance to defeat him. 18 agrees not to, then charges at Vegeta, headbutting him in the face. Vegeta stumbles backwards, then charges at Android 18 and punches her in the stomach. However, she is unaffected, and she counters with a right knee strike to his stomach and delivers a left open palm strike to the side of Vegeta's head, knocking him into a rock wall.
The Z Fighters arrived at this moment and stop the fight. Vegeta is hurt, but he is sure to win. Trunks tries to convince Vegeta to fly away, but the prince replies angrily he wouldn't. Android 18 mockingly tells him he can leave, but Vegeta says that he is about to finish her off, and that he would rather die alone than accept assistance from Goku and his friends. Android 17 claps at this speech and says that Vegeta truly is a Saiyan prince, but Vegeta spits and says he does not need a puppet's praise. Android 17 talks to the Z Fighters and says if anyone of them interrupts the fight between Android 18 and Vegeta, he will stop them. Then Android 18 starts the fight again. Vegeta is punched by her in the air, but the woman is sent in a rock mountain by two hits, one in the gut and one to the back. Vegeta tries to destroy her with a Big Bang Attack, but 18 shields herself with her arms. She is hit, but Vegeta plunges into the smoke and finds Android 18 damaged. Her clothes are torn, and she takes off her blue denim vest. She is dotted with scratches, but it doesn't seem to have an effect. Android 18 is surprised by the power of her opponent and asks if Goku is stronger than he is. Vegeta replies angrily he is stronger than Goku and her, as 18 takes off her vest. She also tries to clean up her hair and replies neither of them can beat her. Vegeta attacks 18 with huge wrath and a powerful kick but 18 is attentive and she blocks the attack. Tien Shinhan cheers Vegeta, while the rest of the Z Fighters watch silently, impressed. Android 17 seems amused by the battle. Future Trunks is surprised at his father's strength, noting that he can hold his own against Android 18, who is stronger than Android 18 in future. However, Piccolo does not share Future Trunks's optimism, and says that Vegeta will be killed, which surprises Future Trunks and Krillin. Piccolo says that Vegeta is losing stamina, while 18 loses none.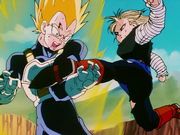 Vegeta continues to rushes 18, this counter-attack cannot last. Android 18 continues to fight, and she eventually gains the upper hand and by many hits, a leg sweep, a blow to the face, and in the gut. Android 18 then sends Vegeta far away with a powerful hit. Vegeta tries to rush 18 again but the Android kicks him in the face and throws a roundhouse kick that breaks his arm. Vegeta waits a moment and then screams in pain. Enraged at seeing his father injured, Future Trunks flies towards the battle, breaking Android 17's non-interference truce. Android 18 notices Future Trunks approaching, and blocks his sword strike. Future Trunks is then hit in the back of the head by Android 17, and collapses on the ground. Android 17 sees Piccolo coming towards him and kicks the Namekian out of his way, then quickly flies to Tien and puts him in a headlock. Having gotten back up, Vegeta attempts to fly towards Android 17 and Tien, but Android 18 grabs his foot. As Android 17 chokes Tien, Future Trunks gets up and runs toward Android 18, who swings Vegeta into him, sending them both to the ground. 17 lets go of Tien and easily defeats Piccolo with a single blow to the chest. Vegeta manages to get up and fires a Ki Blast at Android 18 with his good arm. However, Android 18 dodges the blast and flies over to Vegeta before giving him rough beating and ending the fight by breaking his other arm. Android 17 notes that Vegeta's hair has changed back to its black color and his glow is gone, and says that the transformation was very weird. Android 18 notes that the 'other guy' (Future Trunks) was the same way, and Android 17 wonders who he was, as they have no data on him. He and Android 18 then fly back up to the road and land near Krillin, frightening him, but have no interest in killing him. Android 17 tells him that the others are still alive, and that he should feed them some Senzu Beans right away. He then tells a speechless Krillin that they will fight the Z Fighters whenever they feel up to it. Android 18 asks if he will inquire about Goku's location. Android 17 says that it will be more fun to find it on their own, and says that maybe even Goku will look for them. Android 18 says goodbye, in a flirtatious manner, to Krillin. The pair then meet up with Android 16, who is still nearby, looking off into the distance. Android 17 asks what he is looking at, and Android 16 simply says that the birds flew away because they were too noisy. Android 17 seems confused by this, and Android 18 suggests they fly to someplace where more cars will pass by.
The androids decide to go to the nearest town to get 18 some more clothes and find a car. As they are about to leave, Krillin rushes over to them, telling them to wait. Android 17 asks what he wants, and Krillin asks if they just want to kill Goku, or take over the world. 17 says that for now they are just going to kill Goku, and will decide what to do next afterwards. Krillin asks why they want to kill Goku, since it was Dr. Gero who hated him, and he is now dead. 17 replies that Gero has nothing to do with it and it this is just a game, which is why he did not ask Krillin where Goku is. Krillin asks if they would leave Goku alone if he begged them, but Android 16 replies that they would not, they were created to kill Goku. 17 agrees, and tells Krillin to hurry and go give his friends some Senzu Beans. Android 18 goes over to kiss the terrified Krillin on the cheek before continuing their quest to find Goku then bids him farewell stating that she would see him real soon in the same flirtatious manner as before. This is when Krillin begins to fall in love with Android 18.
Cell Saga
Main articles: Imperfect Cell Saga, Perfect Cell Saga, and Cell Games Saga
As they fly over a snowy area in the north, the androids spot a Lucky Foods van parked along the road next to a rest stop, while two Lucky Foods workers are drinking coffee. The trio land to check it out. The workers notice and attempt to stop the Androids, but are frightened when Android 16 lifts the van and dumps out its cargo. The androids then drive off, and Android 17 plans to head to Goku's House. Android 18 reminds him that she wants new clothes first, and 17 agrees to take care of that first. As they drive, Android 18 asks Android 17 if he even knows where Goku's House is, and 17 says that he doesn't and has been driving on pure instinct. Android 16 then chimes in with the house's coordinates, and says they can be there in a few minutes if they fly. 18 agrees with flying there, but 17 says that small things in life are what make it fun.
17 informs 18 that they are about to enter a town and he will stop to get her some clothes. Suddenly, two police officers follow them and order them to stop. The androids exit the vehicle and are promptly arrested for stealing the van. The androids are handcuffed by the officers, but 16 easily breaks them off of his wrist and 18 throws the police car into a nearby mountain. 17 and 18 remove their cuffs and the trio continues on their way, leaving the terrified officers behind. Once they reach the town, Android 18 goes into a store to get more some clothes. She chooses a Western cowgirl outfit, which she says looks hideous but is the best she can expect from a backwater place. She leaves without paying, and the androids drive off as the store owner bangs on their van. He then calls the police, and soon police cars begin to pursue the androids' van. Android 18 flies out and punches the cars, causing them to crash into each other.
As the trio drives to Goku's home, Android 17 suddenly comes to a stop. He and Android 18 get out, and Android 17 asks if she felt a change in the atmospheric pressure. 18 says that she did, and Android 16 says that it came from the outskirts of West City. He then says that two organics with powerful ki are fighting. Android 17 says that he never told them he was equipped with a Power Radar, but Android 16 replies that he never asked. Android 17 asks who is fighting, but Android 16 says neither are in his databanks, although one of them rivals Android 17 in power. Android 17 says that his Power Radar is malfunctioning, as no one rivals him in power. The androids then decide to continue onwards, unaware that the combatants are Piccolo, who recently fused with Kami, and Cell, the ultimate creation of Dr. Gero created from the genes of the most powerful warriors to walk the Earth.
As they ride, Android 16 tells 17 and 18 that one of the powers he felt earlier was losing energy (This is the result of Cell absorbing energy from Piccolo) and the fight seems to have reached a conclusion. Android 17 gets cocky and again says that 16's sensors need to be re-calibrated because no one can match their power. Later, 18 tells 17 that she doesn't like her new outfit and when they reach another town she wants to stop to find more clothes, which 17 reluctantly agrees to, while 16 curiously observes a nearby river.
Eventually, the Androids arrive at Mount Paozu, where they are forced to drive through the dense, forest area to reach Goku's house. Android 18 makes it clear that she is uncomfortable driving through the forest's bumpy terrain, while Android 17 seems to enjoy the ride. 18 asks Android 16 how close is Goku's house, which he says is directly ahead. 18, tired of driving through the bumpy terrain, opens her window and unleashes an energy blast that obliterates the entire forest in front of them and makes the ground more even. 17 is disappointed by 18's actions and says that he just wanted to have some fun and enjoy the ride. 18 says that fun is for humans and they aren't human anymore, which causes 16 and 17 to sadly stay silent.
When the androids finally arrive at Goku's House, they find it completely deserted (Due to the Dragon Team anticipating this and evacuating a sick Goku days prior). In the anime, 18 goes through Chi-Chi's clothes to find a new outfit, while in the manga, her clothes are already changed prior to their arrival at Goku's home. 17 asks 16 if he knows where Goku might be, and 16 replies that he could either be at Capsule Corporation or at Kame House. The trio decide to fly to Kame House, the closer of the two locations.
The next day, at Kame House, Piccolo watches the news of Cell's attacks on TV while Krillin, Yamcha, and Tien sleep. Suddenly, Piccolo senses that something is amiss, and sees the trio of androids standing outside Kame House, much to his horror. Android 16 states that Goku is not here, which disappoints 17. Piccolo wakes up the others, and Android 17 asks where Goku is, saying that he will use force to make them talk if necessary (Unbeknownst to the androids, Goku, who recovered from his illness, took Gohan, Vegeta, and Future Trunks to The Lookout on the previous day to train in the Hyperbolic Time Chamber in order to gain the power to kill the androids). Piccolo replies that he wants to see Android 17 try, and says they should go to an uninhabited island nearby where they can fight. After telling the others to stay at Kame House, Piccolo and the androids fly over. Once they land, 17 gives Piccolo one last chance to them where Goku is, but the brave Namekian is not intimidated and tells the cocky android that he will not go down so easy this time. With the power boost he gained from fusing with Kami, Piccolo hopes that he can kill at least one of the twins and prevent Imperfect Cell from absorbing both of his targets and achieving his perfect form, which would spell doom. Android 17 accepted Piccolo's challenge and contends to fighting Piccolo one-on-one, rather than fight with Android 18, vastly increasing Piccolo's chance to win.
When Cell arrives and interrupts the fight between Piccolo and Android 17, 18 learns he is another of Gero's creations. She is shocked to hear that he needs to absorb her and Android 17 to complete his design. 17 ignores 16's warning to flee and teams up with Piccolo to fight Cell, however their efforts are in vain. Android 18 and Android 16 watch the battle unfold, with 18 commenting that 17 and Piccolo must be holding back against Cell, due to her inability to sense power levels and still believing 17 is the strongest being on the planet. 16 corrects her by saying that Cell is simply too strong for them. 16 orders 18 to run away on her own, as 17 refuses to heed his warning, otherwise Cell will absorb them both and nobody will stand a chance against him then. 18 asks 16 what will he do, but the android stays silent. As a last-ditch effort, Piccolo attempts to kill Cell with a Light Grenade, decimating a massive chunk of the island as the Androids and the recently arrived Tien Shinhan watch in awe, except 16. 18 praises Piccolo's power, thinking that Cell was destroyed. However, Android 16 immediately states that Cell wasn't even damaged by the attack. Seconds later, Cell slowly rises from the ocean without even a slight visible scar and brutally incapacitates Piccolo, before tosses him into the ocean. Intimidated, 18 believes fleeing is the best option. 16 orders 18 to run once again, and informs her that he will destroy Cell, shocking 18. 16 decides he must use his power now, even though his original plan was to only use this power against Goku. Android 16 approaches Cell, much to the astonishment of Tien Shinhan and 18. Android 16 tells 18 that he's glad he got to meet her and 17, and enjoyed their time together, before focusing on Cell again. 16 is able to hold Cell off for some time by repeatedly surprising him with intense attacks and forcibly removes his stinger from his body, although the Bio-Android easily regenerates due to his partial Namekian DNA. 16 decides to use his strongest attack, Hell's Flash, to destroy Cell as Tien Shinhan and the other androids continue to stare in shock. 16 notices that 18 is still there, and says that he told her to run. 18 says that will not be necessary now that Cell has been defeated, but 16 says she is wrong. He says that Cell, while injured, will not die so easily. He again implores 17 and 18 to escape, but 17 refuses, saying that he wants payback and can now finish a wounded Cell. As 17 taunts Cell to come back out, Cell begins to emerge from the ground behind him. Tien notices Cell's plan and yells out to 17, but Cell quickly emerges and begins to absorb the android with his tail, triggering his transformation into Semi-Perfect Cell.
Android 16 and Android 18 gaze at Cell in horror, as the new Semi-Perfect Cell turns toward the two androids. Android 16 suddenly grabs Android 18, saying that they must escape. Android 16 takes flight still clutching Android 18, but Cell flies after the pair of androids and quickly overtakes them. Android 16 freezes in the air, amazed at Cell's speed. Cell taunts Android 18 and Android 16, saying that they cannot escape from him, and that thanks to absorbing Android 17, he surprised even himself with his new speed. He wonders aloud how strong he has become, and a furious Android 16 throws a punch at Cell, who remains completely unfazed. Cell smiles at a shocked Android 16 and then blasts him in the face, disfiguring his head and leaving him in a critical condition. Cell remarks that he has become stronger as well, as a terrified Android 18 looks on. Cell turns towards 18 and says that she is smart not to try to escape. He then says that it is her turn to be absorbed and that he will soon attain perfection. However, Android 18 holds her hand to her chest and warns Cell not to come any closer, threatening to destroy herself if he does. After glaring at 18, Cell starts speaking in Android 17's voice. Posing as Android 17, Cell tells Android 18 that it is great to be a part of Cell and that it is the only way to be strong, while urging her to let herself be absorbed. 18's resolve seems to waver, but the damaged Android 16 warns her that it is merely a trick. Cell retorts to Android 16 that a robot cannot understand how he and 18 feel, and that he should not interfere and continues to attempt to persuade her. He says that she should join him in order to achieve the ultimate power, but makes the mistake of saying that if she joins him, they will be able to fulfill the "great" Dr. Gero's wishes. 18 then realizes that it was not Android 17 speaking, as she and 17 hated Dr. Gero for experimenting on them and would never praise him. Cell scowls at Android 18, and says that if she will not willingly join him, he will absorb her by force. Cell tells 18 that he is fast enough to subdue her before she can self-destruct and tells her to surrender, but he is stopped by Tien Shinhan, who holds him off with a series of Tri-Beams so that Android 18 and the damaged Android 16 can escape.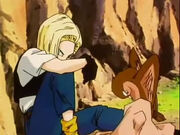 After resuming his hunt, Cell struggles to find 18 and 16. Since he cannot see them, they must be hiding in one of the islands below. Cell sucks in air to his lungs, and yells extremely loud for 18 to show herself or he will destroy the islands one by one. He continues yelling saying that he is not bluffing, and that though he wants to be complete, he is already the strongest on the planet. The residents of a city on one of the islands panic, wondering what the terrible voice from the sky could be. Meanwhile, Android 16 and Android 18 are hiding on a nearby island, and 18 remarks that Cell would indeed destroy all the islands along with her. 16 assures 18 that she will be fine because Cell is too obsessed with completion. When nothing happens, Cell realizes that 18 will not show herself and then turns his gaze to the city on the island below and destroys it in order to flush 18 out. Cell looks at the destruction with no emotion, deciding that 18 was not on that particular island. He yells again, saying that one island has been destroyed and time is running out until her island is destroyed. Android 18 watches from a distance and notices the explosion's impact on the previous island, as smoke rises from the water. She exclaims to Android 16 that Cell is destroying the islands. Android 16 tells 18 not to worry, and that Cell is holding back his blasts to avoid killing her, as he would never risk his dream of perfection. 18 points out that even if she does survive the impact of the blasts, 16 would be destroyed in his condition. 16 begins to wonder why Cell is even bothering to achieve his perfect state, as it seems to be invincible already. Impatient, Cell uses his Super Big Bang Crash to destroy the islands in quick succession. 16 and 18, brace themselves against the force of an explosion, as a neighboring island is destroyed. 18 exclaims that Cell is already on the island beside them, but 16 urges her to stay put and ride out the attack, as Cell is merely watching to see if anyone will fly up. Now reaching the androids' island, Cell holds out his hand yet again, preparing to destroy it. However, he is stopped by the arrival of Vegeta and Future Trunks, who just finished their training in the Hyperbolic Time Chamber.
Android 18 says that Vegeta is insane to challenge Cell, as not even a few days ago, she easily defeated the Saiyan herself. Cell asks Vegeta in disbelief if Vegeta really said he alone would suffice to send Cell to the grave. Vegeta assents, and taunts Cell, asking him if he is hard of hearing. Cell laughs and says that he is merely stunned by the absurdity of the statement. Watching the scene, Android 18 says that Cell is right and that not even a miracle could give Vegeta victory. She then tells Android 16 that this is their chance to escape. 16, however, tells 18 to wait until the battle begins. He also says that Vegeta's power has increased significantly. 18 is surprised, and says that Vegeta could not have changed in such a short time, and that he was not holding back in their earlier fight. As Vegeta powers up, the island begins to shake as Cell, 18, and 16 watch in shock. Suddenly, Vegeta punches Cell in the stomach with tremendous force before he can react, much to 18 and 16's surprise.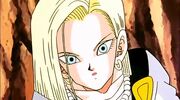 Instead of fleeing, 18 and 16 watch the battle between Cell and Vegeta and soon, Krillin finds their location on the island. Noticing that Vegeta, Trunks, and Cell haven't noticed the androids, he realizes this is his chance to shut 18 down. He then remembers Bulma's warning that he has to be within ten meters of the android's location for it to work, and he descends, hoping to shut 18 down without them noticing. Android 18 believes that Vegeta might have only pretended to be weak when they fought previously, but Android 16 states he'd have no reason to do that, and that something changed in the last few days. Krillin, meanwhile is getting closer, and finally gets within the 10 meter range. However, after seeing Android 18, Krillin struggles to make himself push the button. Ultimately, Krillin gives into his feelings of infatuation for 18 and drops the Shut Down Remote, which causes 18 and 16 to notice his presence. Android 18 reacts with shock, seeing the dropped remote, and wonders how Krillin could have gotten his hands on it, considering Android 17 crushed the one Dr. Gero had. Krillin apologizes to Bulma for all the effort she put into the remote, but crushes it under his boot, despite the imminent danger of Cell absorbing 18, achieving completion, and spreading terror across the universe. Krillin orders 18 to leave the island before Cell finds her. Shocked and confused, 18 asks Krillin why he spared her, but he struggles to reply.
Meanwhile, Cell appeals to Vegeta's ego, stating that if he were in his Perfect Form, he would be a much better challenge. Vegeta, wanting a stronger opponent, agrees to Cell's proposition. As Cell goes to leave, however, Trunks transforms into a Super Saiyan and cuts him off. Vegeta tells Trunks to stop interfering, but he refuses. Cell yells at Vegeta to do something about Trunks, but then spots Android 18 and Android 16 and realizes his perfect form is now within his reach. Trunks looks over at what Cell is looking at, then he spots Android 18 as well, and Krillin is with them. He realizes they do not know Cell has noticed them, and screams out "Hey! Cell has found you!". Android 18, Android 16 and Krillin all panic, and Cell flies toward them. Trunks says he will not let him reach his perfect form, then transforms into the Super Saiyan Second Grade form like Vegeta and follows Cell. Vegeta thinks it is lucky the androids were here, and then tells Trunks he will not let him interfere. Trunks almost reaches Cell, but Vegeta kicks Trunks away, into a nearby mountain. Cell lands in front of them, and Android 18 and Android 16 prepare to fight him. Cell tells Android 16 not to do anything unreasonable while he is on the verge of shutting down, and says that Vegeta wants him to reach his perfect form, too, so Krillin curses Vegeta.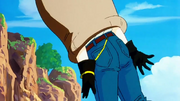 In the anime, Android 18, Android 16, and Krillin attempt to fight Cell in vain, but the Bio-Android effortlessly beats them all. Meanwhile, Trunks declares that he will stop Cell's completion, even if he has to go through his own father and proceeds to fire a Super Buster Cannon at Vegeta and then flies after Cell. Realizing he cannot defeat him, Cell uses a Solar Flare, blinding Trunks, Krillin, and the androids. With everyone blinded, Cell quickly opens his tail up and absorbs Android 18. During his transformation, Cell creates a forcefield to evolve without interference. Once he reaches his ultimate power, Perfect Cell easily defeats Vegeta and Future Trunks.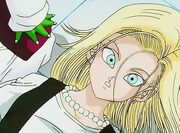 Later on, Perfect Cell becomes overpowered by Gohan (who has become a Super Saiyan 2) during the Cell Games, and regurgitates Android 18, forcing Cell to revert to his Semi-Perfect state. Krillin immediately comes to her side and tends to her for the duration of the battle and says he is glad to see her face one last time before making the final stand against Cell. After Super Perfect Cell is destroyed by Gohan, Android 18 is taken to The Lookout and she wakes up. While there, she figures out that Krillin has a crush on her when Gohan yells it to everyone. This leaves Android 18 surprised and slightly flattered but too proud to admit it. She leaves but, when seeing Shenron, she hides in the lookout to see what is going on. Krillin uses the Dragon Balls to make a wish to Shenron that Android 17 and Android 18 be restored their complete humanity, but when Shenron is unable to grant his request, Krillin takes the opportunity to wish for the self-destruct devices within Android 18 and Android 17 be removed. Revealing her presence in the process, she corrects Krillin about the relationship between herself and Android 17 as being familial instead of as lovers. Nonetheless feeling flattered, Android 18 then simply says "I'll see you later!" and leaves the lookout.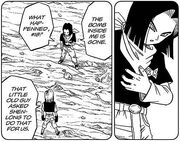 She then ran into Android 17, who was reborn in the same place Cell was destroyed, and told him Krillin had their bombs removed. The two then part off to live since their mission to kill Goku was done.[14]
World Tournament Saga
Main articles: World Tournament Saga and Babidi Saga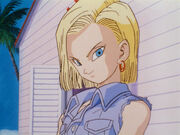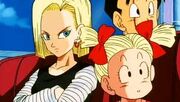 Android 18, who used to be a delinquent, found Krillin's seriousness and straightforwardness refreshing, and somehow or other she ended up falling for him.[4] Seven years after the Cell Games, Android 18 and Krillin are married and have a three-year-old daughter named Marron. Android 18's family is an exceptionally ordinary household, but Android 18 is scary when she gets angry, so Krillin goes out of his way a little bit for her.[2] When Gohan tells Android 18 and Krillin that Goku will return to Earth to enter the 25th World Martial Arts Tournament, Android 18 convinces Krillin to enter to win the prize money. When Goku returns and is reunited with his friends and family, Android 18 remains cold and distant towards him, as she is "created" specifically to kill him, and displays annoyance when Goku expresses surprise to see her with Krillin and the others. She later sarcastically says, "Spare me," when Goku is even more shocked that Krillin not only married her but had a child with her (mostly because he thinks Android 18 cannot reproduce due to being an android, not realizing that she is actually a cyborg rather than a true android).
"Now that you know you can't win, I don't mind letting you have the victory."
— Android 18 towards Mr. Satan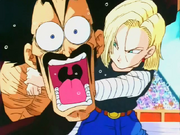 Later, she is matched against Mr. Satan in the World Martial Arts Tournament after she defeated Mighty Mask (actually Trunks and Goten in disguise). Not interested in the fame that comes with becoming the World Martial Arts Champion (and in addition, prevailing over Satan, who is generally believed by people of Satan City to be the strongest man in the world), Android 18 allows Mr. Satan to defeat her and retain his somewhat misappropriated title, provided that he reimburses her an amount of money (twice the prize money that he would be receiving as tournament champion).
Majin Buu Saga
Main articles: Majin Buu Saga, Fusion Saga, and Kid Buu Saga After the World Tournament, she goes with the others to look for the Dragon Balls and later she takes refuge from Majin Buu at Kami's Lookout. While on the lookout, she watches the fusion of Goten and Trunks. A day later, Super Buu finds the tower and allows them to live for a short time. While on the lookout, Super Buu uses his Human Extinction Attack to kill everyone on Earth.
When Super Buu escapes the Hyperbolic Time Chamber, Krillin decides to face him alone while ordering her to leave in the meantime, Android 18 screaming out for him before he charges Super Buu, Android 18 and the others retreating into the lookout before he is killed after Super Buu turns Krillin into chocolate and eats him. Android 18 leads Videl and Bulma away from Super Buu, her daughter in hand, but is turned into chocolate along with Marron, the two being eaten by Super Buu.[15] Her life is restored through a wish from Porunga, and she later supplies Goku with her energy to fuel a Spirit Bomb, in an effort to defeat Kid Buu. Though peace has returned, Android 18 still maintains a cool and distant attitude toward Goku (as she was originally "created" to kill him) but she still cannot resist smiling when Goku returns and has a tearful reunion with his family, and smiles when Goku and Chi-Chi embrace, showing a softer side to her personality. She is later seen at a party at Bulma's house, where she playfully pushes Gohan forward to make him dance with Videl.
Dragon Ball Super
God of Destruction Beerus Saga
Main article: God of Destruction Beerus Saga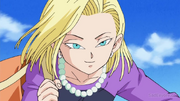 Sometime after the defeat of Kid Buu, 18, Krillin, and Marron attend Bulma's party by car. 18 took a while on her make-up so she could look good for the super bingo tournament, causing them to be in traffic. They ditch the car, putting it into a capsule and start flying. They are joined on the way there by Yamcha, Tien Shinhan, Puar, and Chiaotzu, also attending Bulma's party. After arriving there, she asks Bulma about the prizes and settles on getting the second one, a castle, though confronts Krillin when she suspects him of not liking her choice.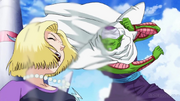 18 talks with Bulma and Chi-Chi before the arrival of Beerus and Whis, her cheering for Beerus and saying his name along with the other attendees after Krillin offers him food. After Beerus defeats Buu and Gotenks, 18 charges him with Piccolo and Tien, Android 18 taking issue with Beerus for harming children, the three throwing punches left and right until Beerus lets out a screech that hurts the ears of the group. Once getting away from him, 18 is comforted by Krillin, later observing Vegeta's transformation into a Super Saiyan 2 following Bulma being slapped by Beerus.
Golden Frieza Saga
Main article: Golden Frieza Saga No. 18 visits Goku's house with Marron to pick up and treat Krillin after he got hit by Goku, who wanted to test his new godly powers against Krillin.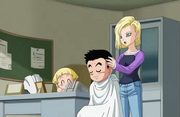 Four months later, after hearing of Frieza's revival, No. 18 visits Krillin at work and gives him his old gi and volunteers to come with Krillin but he insists that she would stay behind and take care of Marron. After No. 18 shaves his hair, Krillin leaves and No. 18 admits that he is cool. Later on, No. 18 was about to go shopping for dinner when she notices, in shock, that the Earth was blowing up, and she, along with Marron, was killed until Whis undid the event with his Temporal Do-Over technique so that Goku could kill Frieza once more.
No. 18 later attends the feast thrown by Bulma with her family and friends.
Universe 6 Saga
Main article: Universe 6 Saga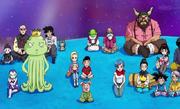 At least a year after the battle with Golden Frieza, No. 18 is informed by Chi-Chi that there's going to be a picnic in space and she gets invited. Four days later, No. 18 goes to the Nameless Planet with Goku and the rest of their group by Whis for the Tournament of Destroyers. On the way to the nameless star, No. 18 plays Shiritori, a wordplay game. After traveling for two hours and forty-five minutes, they eventually arrive on the planet. As they land, the sight of seeing the Super Dragon Balls amaze her. No. 18 is a bystander and watch the tournament from the stands. After the tournament is completed, she comments on a hidden ball on the Super Dragon Radar to Bulma.
Copy-Vegeta Saga
Main article: Copy-Vegeta Saga Android 18 attends Bulma's Universe 7 victory party with her friends and family and learns that Monaka isn't a fighter. She then watches as Beerus dons a life-sized Monaka costume and fights with Goku, and later starts the party with Monaka's secret protected.
"Future" Trunks Saga
Main article: "Future" Trunks Saga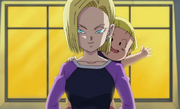 18 encounters Future Trunks while bringing Marron to Krillin, who had a hard time telling Future Trunks who he was married to and upon seeing her, Future Trunks begins pulling out his sword until Krillin intervenes. 18 steps over to Future Trunks, informing him that she had heard of him killing her counterpart in his timeline and that she wants reimbursements, before revealing that she is joking and rejoining her daughter and husband.
Sometime after Future Trunks' departure, 18 notices Goku summon Shenron while out shopping with Chi-Chi and Marron and takes off to Capsule Corp in hopes that she can use the wish to find the perfect gift for Krillin. Once Bulma arrives, she quickly tells 18 that the only thing Krillin wants is her and Marron's company. 18 leaves, but not before flicking Oolong away upon being given a huge amount of Zeni.
18 is displeased when hearing that Krillin has been getting hurt by bullets at work, and voices her concerns whilst motivating her husband (saying the man she fell in love with wasn't a spineless weakling). She allows Krillin to train at Roshi's with Goku after overhearing a conversation between the two. The next day, she goes to the island along with Marron, attempting to check on him, but ends up observing his training in The Forest of Terror via Baba's Crystal Ball. She is impressed by Krillin's displays of power and agrees with Marron that he is strong. When he returns to the island, she greets him with a quick embrace. She later shaves Krillin's head.
Universe Survival Saga
Main article: Universe Survival Saga
During Goku's search for Universe 7's team members, he attempts to recruit 18 along with Krillin. She initially refuses, as she never works for free and has Marron to care for. She finally accepts after Goku tells her there is a prize for winning the Tournament of Power, although she is suspicious as to why he and Gohan are so desperate to recruit her for a 'game-like' tournament. She observes Krillin's match with Gohan and further suspects this tournament is not really a game, based on Gohan's serious expression during the match. She expresses her concern for Krillin when he attempts to spar with Goku, noting the significant power difference between the two while also pointing out Krillin's Solar Flare x100 is a surprise attack and not meant for continuous use.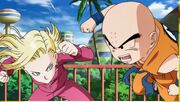 Once Goku transforms into his Super Saiyan Blue form, she states that although Krillin cannot win one-on-one against Goku, the Tournament of Power is a battle royal. When the beam struggle between the two is not going in Krillin's favor, she interrupts the fight by kicking Goku's Kamehameha to into the sky, sending both Krillin and Goku backward. She then runs to Krillin's side, telling him the match is not over yet, reminding them that the tournament will not be a no-rules fight to the death but a battle royale. Goku calls off the match, saying he learned what teamwork should be like, and he is counting on both Krillin and 18 in the tournament. 18 reveals that she has kept in contact with 17 and that he works at a wildlife reserve, though she never asked where it was. Afterward, she is seen training alongside Krillin for the Tournament of Power, although because of how violent the training looked, onlookers were led to believe it was a couple's dispute gone too far.
After gathering the entire Universe 7 team, with Frieza replacing Good Buu at the last minute, the team along with Beerus, Shin, and Whis were transported to the Null Realm with the help of the Grand Minister. Later, the Great Priest emerged from the center of the arena and explained the rules for the tournament once again. Gohan then goes over the plan to stick together with 18 agreeing to do her best alongside Krillin and the rest of her team. But as soon as the Tournament began, Goku left the group to fight Top with 18, 17, Vegeta, and Frieza following suit. She was then seen fighting with Cocotte, exchanging punches and kicks. 18's first elimination happened off-screen, having shown to have defeated and knocked off Sorrel.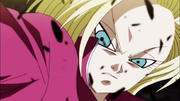 After Universe 9's defeat and erasure, she met up with Android 17 and where they discussed the advantage of their infinite stamina. She later fought against Shosa from Universe 4, quickly defeating him. However, Shosa was playing dead and surprised her with a sneak attack and a barrage of ki blasts. She was about to be forced off the ring when Krillin catches her and saves her from falling. Android 18 and Krillin regrouped and knocked out their opponent with a combined attack. They were also confronted by Majora, another Universe 4 fighter who was immune to Krillin's Solar Flare x100 due to his blindness. She then observed the fight between Majora and Krillin, which resulted in her husband's victory. Krillin then let his guard down and Frost knocks out Krillin with a sneak attack. Angered, she attempted to engage with Frost but he managed to escape by creating an explosion with a Ki blast.
After Krillin's surprise knockout, 18 scolds him for letting his guard down and reminds him of all the money he spent on training equipment. When the Pride Troopers challenges Goku and the Universe 6 Saiyans, 18 goes to assist Goku with the Universe 11 fighters. She manages to take out Tupper and Cocotte by throwing them both off the fighting stage. When 17 was having trouble with Kakunsa, 18 offers 17 a helping hand, but the latter refuses and decides to get serious. After Goku's battle with Kefla, 18 and 17 reappear with 17 noticing 18's injured leg so he binds it with his sleeve. They race back to assist an exhausted Goku when Universe 2 closes in. Rozie chooses to take on 17 to avenge her teammate, while Ribrianne fights 18. Unable to land a hit on 18, Ribrianne becomes annoyed and orders 18 to stop running and fight her properly. 18 responds that she isn't here to fight, but is here to win, stating that the lives of her husband and daughter are on the line. After finding out that the bald man cheering 18 on is actually 18's husband Krillin, Ribrianne shows her disgust by calling him ugly for not having a nose. She continues to chastise 18 for having trite objectives and accuses her of not knowing what love is. Enraged, Ribrianne launches herself at 18 but hits a wall instead, she picks herself up and uses her A Maiden's Charge on 18. Unable to dodge the attack because of her injury, 18 was about to be hit by Ribrianne when 17 interrupts her with a swift kick that sends her into a wall. Rozie tries to launch a surprise ki blast attack on the androids but hit Ribrianne after they dodged it.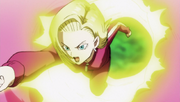 Noticing the lack of coordination between Ribrianne and Roasie, 18 and 17 were able to coordinate and make Ribrianne hit Rozie with a Max Love Cannon that was meant for 18. Ribrianne rushes to aid Rozie but flies straight into a High-Pressure Energy Wave from 18, bringing her back down to her base form. As Rozie struggles against the attack from Ribrianne, 17 was able to blow Rozie off the stage with a ki blast. Assuming she has won, 18 dodges a small ki blast from the now depowered Brianne de Chateau only to find herself caught in Brianne's trap move, Big Amour. All of the Universe 2 fighters and its inhabitants then take this cue to send their love to Ribrianne, transforming her into her ultimate Lovely Love, Love Ribrianne form. Believing this was her end, 18 closes her eyes and scenes of Krillin calling her name flash before her. Krillin's voice continues until she realizes she is actually hearing Krillin calling from the stands. Inspired, 18 powers up to break out of Big Amour, just in time to meet Ribrianne's Fist of Love with a punch of her own. 18 follows up with another blow that shatters Ribrianne's fist and proceeds to run up her arm. Ribrianne fires an energy wave from her mouth towards 18 but 17 returns at the perfect moment to protect them with his barrier. 17 tells 18 to finish it, to which she jumps to destroy Ribrianne's remaining fist. Using the shattered pieces as footing, 18 launches herself towards Ribrianne, overcoming her final energy wave to punch a hole clean through the avatar's head. Afterward, Krillin and 18 exchange thumb ups and smile at each other. Shin who is adored by the display of love between the two calls Krillin "her Big Amour." Not taking kindly to that, 18 grazes Shin's cheek with a Finger Beam and with a sinister look on her face, tells him if he ever says that again she will kill him. Shin, horrified at almost being killed, apologizes and cowers behind Krillin.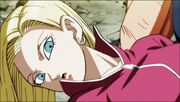 After finishing off Ribrianne, 17 and 18 rejoin Goku to finish off Universe 2. Uncharacteristically, 18 plays along with Universe 2's obsession with monologues and follows 17 in giving herself an over the top introduction, referring to herself as the goddess of Universe 7. She fights alongside 17 and Goku to put the remaining warriors on the brink of defeat. In their last stand, the Universe 2 fighters launch their ultimate attack, Pretty Black Hole, trapping the three of them. The trio seemed lost until Goku fired an SSB Kamehameha to finish off Universe 2. During Universe 3's all-out attack on Universe 7, 18 works with 17 to take down Biarra's supreme defense. Eventually, the twins are able to break through his armor and they mock his strategy before 18 finally kicks him off the stage. 18 and 17 get involved again when the remaining Universe 3 fighters merge to form Agnilasa. 18, 17, Goku, Gohan and Vegeta all try to attack from different sides to confuse the monstrosity but it quickly counters all of them. Agnilasa changes strategies and starts catching his enemies. 18 was caught and was about to be eaten by Agnilasa when Goku saves her with Instant Transmission. Agnilasa then attacks all of the fighters with intense energy waves pushing them all back, 17 was especially vulnerable as he was close to the edge of the ring. Noticing this, Agnilasa fires a large mouth energy wave at 17, destroying his barrier and knocking him off the stage. 18 jumps off after 17 and grabs onto him. Confused, 17 asks what is she doing, 18 tells him that it was all up to him now and kicks 17 back onto the stage eliminating herself instead. After being eliminated, 18 apologizes for losing but Krillin comforts her, telling her she did more than her fair share. Following her elimination, she watches her remaining comrades battling against Jiren and also became concerned and worry to her brother 17. After 17 had won in the Tournament of Power and made a wish for the Super Dragon Balls to restore all of the Universes have been obliterated after their eliminations in the tournament, she came to her brother's aid and telling about his own wishes and dreams only for 17 to tell her that it will be petty to make a wish for himself rather than all of the Universes and its inhabitants remain dead and obliterated and why he decided to wish back to restore all of the Universes. 18 is later seen talking to 17 in their cellphones, finally reconciled their family relationship as 17's dreams came true when he rode one of Bulma's cruise ships being lent by Vegeta due to him as the winner of Tournament of Power.
Galactic Patrol Prisoner Saga
Main article: Galactic Patrol Prisoner Saga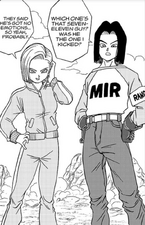 Android 18 along with her brother show up suddenly on the battlefield during Moro's initial assault on Earth and kicks Shimorekka in the face. Piccolo is glad to see them there due to the androids not having Chi that can be absorbed by Seven-Three using Moro's ability. Android 17 and Android 18 then prepare to fight Seven-Three and Shimorekka with Android 18 saying that she is there because she is being paid 10 million Zeni by Capsule Corporation to which Android 17 says makes them sound like mercenaries.
Android 18 proceeds to battle and outmatch Shimorekka in their battle until it is called off with the arrival of Moro and Saganbo. Saganbo steps forward and asks if he can take care of them as Moro shares some of his power with him. Android 18 and the others then find themselves greatly overpowered even while all working together.
Later, she watches the battles from the sidelines, asking Piccolo if Goku has come back stronger and can defeat Moro. Ultimately he is unable and Moro goes to finish him off but along with Android 17, they are able to save him. The two tell Moro that they do not have life energy to be absorbed and proceed to attack him, performing the Super Electric Strike that barely leaves a mark. The brief battle is put on halt after Vegeta returns and takes over. Unfortunately, Moro acquires even greater strength and Android 18 is forced to intervene again along with her brother but they are taken down before they even have a chance to land an attack.
Ultimately, after one final push, owed to Uub, Goku defeats Moro once and for all. Android 18 and the rest of her friends and family celebrate their hard earned victory afterwards with a feast at Satan House.
Peaceful World Saga
Main article: Peaceful World Saga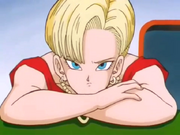 Ten years after Majin Buu's defeat, No. 18 attends the 28th World Martial Arts Tournament with her family and the other Z Fighters.
Dragon Ball GT
Baby Saga
Main article: Baby Saga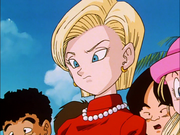 5 Years later, in her first appearance in Dragon Ball GT, Android 18 becomes a servant of Baby. During the battle between Super Saiyan 4 Goku and Baby Vegeta, she, along with Krillin and Marron are caught in the destruction of Satan City by Baby's Super Galick Gun. However, all of them appear to have avoided the blast. She is later cured with the Sacred Water. She must later go to the Tuffle planet before the Earth explodes because of the wish by Baby to restore his home planet. Afterward, she attends a party at Bulma's house.
Super 17 Saga
Main article: Super 17 Saga
"Destroying innocent lives is what makes you the coward, 17."
— Android 18 towards her brother
A year later, Android 18 later appears in the city with her family, until Android 17 attacks. 17 attempts to control her. However, Krillin intervenes, pointing out that Android 18 is now married and has a child. He also reminds Android 17 that he killed Dr. Gero himself, but 17's Machine Mutant counterpart, Hell Fighter 17, contacts him and regains control, causing him to kill Krillin. Krillin's death brings Android 18 back to reality, causing her to go into a rage and attack her own brother. Seeing what he has done, Android 17 then targets Marron so he can gain full control of Android 18, but Android 18 defends her from Android 17's Photon Flash, leaving her in a critical condition. Android 17 flies off to merge with Hell Fighter 17, and Android 18 crawls over to Krillin, taking his hand as she appears to die with him.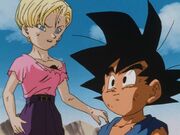 Later, Android 18 reappears and in an attempt to avenge her husband's death, she joins Goku in the struggle against Super 17. Through her intervention, she unknowingly reveals Krillin's death to Goku and she claims to have a bomb in her chest, though is bluffing as it was removed following the Cell Games. Her goading of Super 17 prevents him from finishing off her and Goku as he planned, leading to the super-androids self-emancipation by force from Dr. Myuu, who he kills with the blast that he intended for the pair and eventually his death when Goku finishes him off, Android 18 afterward proclaiming to have gotten vengeance for her deceased husband. It is at this point where Goku and Android 18 finally put their differences aside, the two having a talk after Super 17's death and Goku assuring Android 18 that Krillin would be resurrected, Android 18 accepting Goku as a true friend and ally.
Shadow Dragon Saga
Main article: Shadow Dragon Saga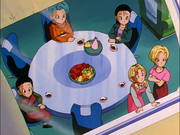 Soon after the creation of the Shadow Dragons, Android 18 is seen at Capsule Corporation accompanied by Bulma, Chi-Chi, Videl, and Marron (her daughter).[16]
Film appearances
Super Android 13!
Main article: Dragon Ball Z: Super Android 13! Android 18 and her brother, Android 17, appear in the film's opening narration, depicting their rebellion and murder of their creator Dr. Gero. The titular antagonist also indirectly refers to their earlier murder when meeting Goku, explaining that he and his cohorts, Androids 14 and 15, were in fact created by Gero's supercomputer rather than by Gero himself due to his having died quite some time prior.
Bio-Broly
Main article: Dragon Ball Z: Bio-Broly
As Mr. Satan did not pay Android 18 her cut of the prize money yet, she, alongside Krillin, Goten and Trunks go to his personal mansion, with her personally entering and destroying much of his property to get him to fork over the promised cash (With Mr. Satan explaining that he can't give her the money yet as the mail order for the money hadn't even arrived yet). However, right as she is about to leave the house, she is interrupted by the arrival of Men-Men, the cousin of an old classmate of Mr. Satan, Lord Jaguar, who proceeds to blackmail Mr. Satan into fighting his Bio-Warriors at Mei Queen Castle. Wanting to make sure Mr. Satan does not forget about their deal, Android 18 tells Krillin to watch over Marron and ends up going with Mr. Satan. Goten and Trunks stow away aboard Men-Men's vehicle. Upon arrival, she is leered at by Jaguar when meeting his rival for the first time in many years (with Mr. Satan claiming that Android 18 is one of his students), with her proceeding to nonchalantly knock Jaguar into a wall. She later uses the opportunity whenever Mr. Satan tries to request her help to increase the amount of Zeni paid.
However, she is eventually beaten by Bio-Broly, a clone of the then-recently deceased Legendary Super Saiyan Broly. She later proceeds to aid in the evacuation of the personnel, alongside Trunks, Goten, and Krillin (who arrived due to not wanting to miss out on the action), as well as pushing Krillin down when he briefly interacted with the female scientists. She then stays with the surviving personnel while Krillin, Goten, and Trunks use their Kamehamehas to cause a freak wave to consume Jaguar's island and halt the spread of the Culture Fluid.
Battle of Gods
Main article: Dragon Ball Z: Battle of Gods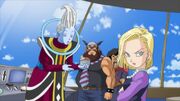 Four years after Majin Buu's defeat, 18 attends Bulma's birthday party along with the rest of the gang. When Beerus was angered, 18 attempted to attack Beerus, but Beerus elbowed her in the back. During Goku and Beerus' fight, Whis asks 18 what ice cream is and how to make it but she gives him a cold answer, telling him that she doesn't know as she just buys it. In the end, Beerus spares Earth and goes home. They later continue their feast at night.
Resurrection 'F'
Main article: Dragon Ball Z: Resurrection 'F'
"Don't get your feelings hurt, but I'm still a lot stronger than you guys."
— No. 18 referring to Krillin and the other Z fighters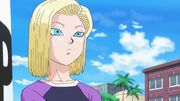 Sometime after encountering the God of Destruction and after Frieza's revival, #18 shaves Krillin's head because he wanted to go old school. She wants to help against Frieza and his army, but Krillin wants her to stay and take care of Marron. When Krillin takes off, #18 expresses how cool Krillin is. She is killed when Frieza destroys the Earth, but it is undone by Whis, using his Temporal Do-Over.
Super Hero
Main article: Dragon Ball Super: Super Hero
Other Dragon Ball Stories
Dragon Ball SD
Main article: Dragon Ball SD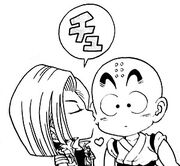 At the time when Goku, Krillin and 18 were children. Gero tried to kidnap the young Lazuli to turn her into an android, however upon seeing Goku in the vicinity, Gero sends Android 9 after him - but Goku defeats him in a single blow. As thanks Lazuli gives Krillin a kiss on the cheek.
The Return of Son Goku and Friends!
Main article: Dragon Ball: The Return of Son Goku and Friends!
18 attended Mr. Satan's banquet, celebrating his new hotel honoring the defeat of Majin Buu. After Aka did Super Wahaha no Ha, destruction came upon the banquet. A damaged building was headed to collapse on #18 and Marron, but Krillin used his Destructo Disc to split it.
Dragon Ball Fusions
Main article: Dragon Ball Fusions Tekka's Team can encounter Android 18 at the Cell Games Arena. There they will find 18 yelling at Krillin. 18 reminds him that he is supposed to be searching for their daughter's lost things. Krillin agrees to get right on it, but 18 suggests that Tekka's Team help out as well, as she considers them to be partially responsible. She explains that Marron dropped three of her things while 18 and Krillin were doing recon over the undamaged portion of Future West City. Realizing they have no choice, Kid Goku suggests they go and search. After finding Marron's lost sandal, her favorite ribbon, and favorite toy, Tekka's Team returns to 18. She thanks them for their help and Goten asks if she would join their team. Though 18 has no interest in the Timespace Tournament as there is no prize money for winning, she agrees, stating that it would at least be something to do. Completing this Sub-Event unlocks Android 18 as a playable character and causes her to appear on the team's Spaceship.
An evil version of Android 18 (presumably Future Android 18) also appears in Sub-Event: "Justice's Little Ally" as Goten and Kid Trunks note that she is different from the 18 they know. This evil 18 joins her brother (presumably Future 17), Android 19, and Android 20 in attacking Satan City only to be driven off by Teen Uub who enlists Tekka's Team in chasing after the Androids after they split up into pairs. If they select the boy and the girl, they will face 18 and 17. If they chose the other they will face 19 and 20, while Uub chases after the twins and defeats them.
Xenoverse
Main article: Dragon Ball Xenoverse In Toki Toki City in Age 850, Android 18 is one of the many fighters recruited by Chronoa and Future Trunks to train members of the Time Patrol, however 18 asks that she be compensated by Chronoa for taking the job making her the only Master wishing to be paid for their services. The Future Warrior can take her on as a Master in order to learn her skills. She is upfront with them about her arrangement with Chronoa, though she does warm up to them as a pupil.
Xenoverse 2
Android Warfare Saga
In an altered timeline of Age 767, Towa and Mira empower Imperfect Cell using Dark Magic making him stronger than Android 16 allowing him to defeat Piccolo and Android 16 before using the Solar Flare to blind Android 17 whom he knocks into Android 18 with his tail, before absorbing both twins while they are unconscious allowing him to bypass his Semi-Perfect form completely and transform directly into his Perfect form, which Future Trunks fears could potentially prevent the Cell Games from ever occurring, while Chronoa admits she is more worried that these changes may end up preventing Android 18 and Krillin from getting married and admonishes Trunks for being so dense when he questions if those changes would really have any effect (as Krillin only crushed the shut down remote and tried to protect her after Cell had absorbed her brother indicating that Chronoa's fears were well justified as had those things not occurred he and 18 might not have ended up together). Chronoa notes that while he may be terrible with romance stuff, Trunks is great at punching things, causing Trunks to ask her to drop the subject.
As a result, Old Kai has the current Future Warrior travel back in time to stop Cell from absorbing both 17 and 18 at the same time. The warrior arrives as Piccolo confronts Android 17 who is also empowered by magic as soon as the Warrior appears which causes Trunks to note that 17 is more powerful than he should be and that Cell will become terrifyingly strong if he absorbs 17 in that state and orders them to try and dispel the enchantment before Cell arrives. If they are Frieza's Race, he tells that they are likely the same race as Frieza, though does not recognize Majins due to having no data on them or their progenitor Majin Buu.
Going exactly the same as before, except this time, Android 17 professes his confidence on the Warrior, they manage to dispel the energy just as Cell appears and defeats Piccolo. As Android 17 and 18 focus on fighting Cell, the Future Warrior works to prevent him from absorbing both Android 18 and her brother together. Android 16 tells 18 the same thing as the original timeline as he engages Cell. Android 16 joins forces with the Future Warrior to combat Cell so 18 and 17 can escape. Trunks notes that in the correct timeline that 16 was equal to Cell, but due to the Supervillain power-up he is far stronger and orders the Future Warrior to give 16 a hand. However Android 17 and 18 remain to watch 16 fight Cell amazed at how powerful their comrade is, though 16 tells 18 and 17 to run.
Android 17 gets absorbed just the same, thus the warrior returns to the Time Nest. During the Cell Games, Krillin is shown carrying the unconscious Android 18 after she had been spit out by Cell, as he watches Gohan destroy Cell in the corrected history thanks to the Future Warrior and Future Trunks foiling Mira and Towa's plans to alter the events of the Cell Games by creating a wormhole to The Return of Cooler timeline causing Meta-Coolers to appear in the main timeline, though Trunks manages to destroy the Big Gete Star allowing the Future Warrior to return to Age 767 of the main timeline and aid Gohan in fighting the Supervillain Mode empowered Super Perfect Cell before Cell is ultimately destroyed by Gohan's Father-Son Kamehameha restoring the correct timeline.
Power
Manga and Anime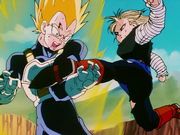 During the Android Saga, Android 18 is extremely powerful, able to easily overpower the typical Super Saiyan. Her raw strength is able to casually break free from confines like handcuffs and just as effortlessly lift and toss large vehicles. Her most noteworthy and beneficial trait in battle is her continuous and virtually infinite energy supply, which prevents her from becoming exhausted while also augmenting her attacks.
Her augmented might was first demonstrated when she fights Super Saiyan Vegeta. Despite Vegeta's power being far greater than expected, thanks in part to Vegeta losing stamina while she did not, Android 18 quickly overwhelmed Super Saiyan Vegeta once getting serious. Despite the Saiyan Prince landing some blows of his own, Android 18 emerged basically unscathed. Even more, she casually blocks Future Trunks' sword strike with her bare wrist, causing the mighty steel blade to shatter upon contact. Ultimately, in addition to Android 18 being far too strong for the Earth protectors, Future Trunks even noted that her power is considerably greater than her future counterpart, as the future warrior could hold his own for a period of time against the future androids. However Android 18 is considerably weaker than Android 16 and Imperfect Cell (who had absorbed several thousands of humans).
Seven years later in the Majin Buu Saga, despite having settled down, 18 has seemingly trained as she is now capable of using the Destructo Disc. She proves strong enough to fight on par with and eventually defeat Super Saiyans Trunks and Goten simultaneously, who were disguised as Mighty Mask.
In the Golden Frieza Saga, during Frieza's resurrection and second assault, 18 initially insisted on helping on the front-line against Frieza's army, noting that that she was still much stronger than the non-Saiyan members of the Z Fighters, to which Krillin talked her out of it as he felt more confident in her ability to protect their daughter than he could.
During the Universe Survival Saga, Android 18 was selected to join Team Universe 7 for the Tournament of Power. In the anime she displays her power by kicking away Super Saiyan Blue Goku's Kamehameha away when he clashed with Krillin.
During the tournament, in the manga, she was able to quickly overwhelm Prum, ultimately launching him off the arena to eliminate him. Simultaneously, her launching of Prum also hit Jimizu, eliminating the second foe as well. Against Ribrianne, 18 initially was pressured by the vain foe. 18 managed to evade and resisting her various attacks, until Kakunsa and Rozie jumped in to hold 18 down. However, when shocked that "ugly" 18 was married to the "gorgeous" Krillin, the knowledge rattled Ribrianne, making her power waver too much to harm Android 18. This ultimately let 18 break free and overpower the trio. As she was prepared eliminate the trio, 18 was eliminated by a sneak attack from Gamisalas.
In the anime, she is able to fight evenly with Cocotte and easily defeated Sorrel. She and Krillin were able to knock Shosa out of the arena with their team tactics. She was able to easily dodge Kahseral's Justice Saber. Her ki blasts were strong enough to damage Tupper's stone form, and she was also able to effortlessly lift Tupper with one hand, something base Goku wasn't capable of doing even with both hands. During her fight with Ribrianne, 18 largely held the advantage, mostly dominating her long enough to force the opponent back into her base form. Against Lovely Love, Love Ribrianne, 18 was still able to overpower and eliminate the Universe 2 fighter. She also appears to be significantly more powerful than Shin, the Universe 7 Supreme Kai, as a mere scowl and nick on his face from a small beam made Shin cower in fear of her. Later on, Android 18 was overwhelmed by the intense gravity of the Pretty Black Hole. Android 18 was pressured by Gamisalas, as the latter was invisible. Alongside Android 17, Android 18 was able to break Biarra's armor and was also able to kick him out of the arena. Against Agnilasa, Android 18 was overwhelmed by the giant warrior, almost being eaten, however, she was saved by Goku. When Android 17 almost fell out of the arena, 18 jumped pushed 17 back towards the arena, letting herself be eliminated in the process.
In the Galactic Patrol Prisoner Saga, Android 18 is able to overwhelm Shimorekka. When faced with the empowered Saganbo, Android 17, Android 18 and Jaco choose to retreat from the fight. Even fighting together Android 17 and Android 18's heaviest attacks are barely enough to make Moro flinch, though he is impressed by their power and wishes he could steal it.
In Dragon Ball GT Android 17's power appears to have greatly surpassed 18, as he quickly defeated her in an energy clash. However, during their fight, 18's initial assault managed to damage him.
Films
In Dragon Ball Z: Bio-Broly, it is shown that Android 18 is no match for Bio-Broly.
In Dragon Ball Z: Battle of Gods, 18 challenges the God of Destruction Beerus alongside other Z Fighters but she is no match for him.
In Dragon Ball Z: Resurrection 'F', 18 states that she is still much stronger than Krillin.
Statements by guidebooks and authors
Android 18's power is described to be suppressed compared to her brother, Android 17.[12]
Despite her body being modified enough to be labeled an "android", she is still completely organic, and a human-based model, she can still grow in skills and power level through training. At the same time, her amplified physiology makes her cells deteriorate much slower due to, enabling her to keep up her peak nature without training while still able to grow stronger through also vastly extending her youth and longevity. She also requires no nourishment beyond water.[4]
Video games
In Dragon Ball Z: Shin Budokai, Android 18 is able to fight against an angry Future Trunks for enough time to convince him that she is not evil, but gets exhausted when fighting Legendary Super Saiyan Broly despite her apparently unlimited energy supply and she is unable to do any damage whatsoever to him.
In the Dragon Ball Z: Budokai Tenkaichi 2 What-if Saga Destined Rivals, after allowing Mr. Satan to "beat" her in exchange for the prize money, she off-handedly mentions that even if she did go all out and beat Mr. Satan, she'd still have to contend with two other fighters (heavily implied to be Goku and Vegeta) and admitted she might not be a match for them.
In 18's profile in Dragon Ball: Raging Blast 2, it states that she is not as strong as Android 17.
Her power level is 30,000,000 in Dragon Ball Z: The Anime Adventure Game.
In Dragon Ball Fusions, she is classified as a B-Rank fighter putting her power on par with Android 17, Android 19, Android 20/Dr. Gero, Android 33, Android 44, Android 76, Dabura, Dodoria, Jaco, Kid Goku (DB), Kid Trunks (base), Young Gohan (base), Goten (base), Kibito Kai, King Piccolo, Krillin, Nuova Shenron, Pan, Pikkon, Tien Shinhan, Turles, and Zarbon who are all B-Rank.
Abilities
Techniques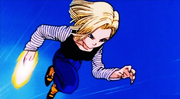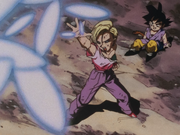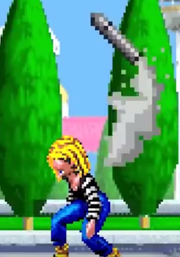 Forms and Transformations
Infected
Main article: Tuffle Parasites
During the events of Dragon Ball GT in the Baby Saga, Android 18 (along with almost everyone else on Earth) is taken over by a tuffle parasite from the evil machine mutant, Baby. While infected she retains most of her original personality, though she is still an evil follower of Baby like the other infected Earthlings.
Brainwashed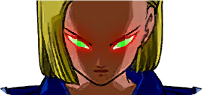 A form taken on by Android 18 in Dragon Ball Heroes, it is the result of 18 falling under the control of Android 20's Strengthened state. In this state Android 18's eyes glow red with green pupils.
Fusions
Android 35
Main article: Android 35 The hypothetical Potara Fusion of Android 17 and Android 18 that was proposed by Shin to be formed during the Tournament of Power as being twins, Android 17 and Android 18 were considered ideal candidates for Potara fusion. However, the idea was scraped as Whis realized the dangers of fusion as if Android 35 were eliminated then both 17 and 18 would be eliminated leaving Team Universe 7 down two fighters. As a result, the fusion never materialized.
Android 1718
Main article: Android 1718 The EX-Fusion of 18 and her twin brother Android 17, who was introduced in Dragon Ball Fusions.
Arale 18
Main article: Arale 18 The EX-Fusion of 18 and Arale Norimaki, 18 who was introduced in Dragon Ball Fusions.
Tekka (fused w/ Android 18)
Main article: Tekka
By select Tekka as Fusion Target 1 and Android 18 as Fusion Target 2, they can perform EX-Fusion. Like all of Tekka's EX-Fusions, the resulting will retain Tekka's selected name, race, gender, voice, and their profile description will remain the same, though they will gain 18's hairstyle and access to her Skills and Special Moves. Appears in
Dragon Ball Fusions
.
Video Game Appearances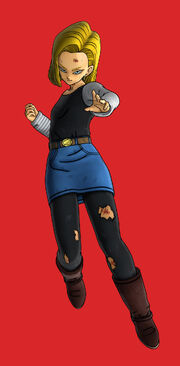 In Shin Budokai, Android 18 uses the Dragon Balls to wish for her humanity to be restored, however, Shenron is unable to grant it. She then wishes for Krillin to become an android, although Shenron cannot grant this wish either. She eventually settles on having the "terminate Goku" program installed into her erased, which Shenron does grant.
In Dokkan Battle, Android 18 is playable in her Red Ribbon Army attire, her cowgirl dress, her Cell Saga outfit, her casual outfit from the Great Saiyaman Saga, Tracksuit, and GT incarnation. She also appears as a team character with her brother Android 17 and with both 17 & Android 16. Additionally Goku (GT) features her GT incarnation joining in as part of his Dragon Fist Super Attack which is based upon their team attack against Super 17 as she fires an Infinity Bullet as Goku attacks with his Dragon Fist.
In Dragon Ball Legends, there are several playable versions of Android #18, though one of them actually represents her evil future counterpart Future Android #18 who while also being referred to as Android #18, has a "Future" category tag. In addition to her Android Saga and Imperfect Cell Saga incarnations, her Majin Buu Saga and Universe Survival Saga incarnations also appear.
"
Do you need something? Hm? What, you've got a present for me? Heh heh. Well, you really know how to please a lady, don't you? ...Is this some sort of sick joke? You honestly think I'm going to wear this?!
"
— Android 18's reaction to her "Gift" in
Dragon Ball Xenoverse 2
In Xenoverse 2, the Future Warrior can purchase Gift (Android 18) from the TP Medal Shop which the Future Warrior can give to 18 as a gift which unlocks Swimsuit as a Special Costume for her custom skillset. Her special costume is a white bikini with black accents with the Turtle School kanji on the bikini top's left breast and white bottoms with black frills. When giving the gift to Android 18, she states they really know how to treat a lady and accepts the gift, however she is displeased when she finds it is a bikini and asks if it is some kind of sick joke, asking if they think she is honesty going to wear it. Afterwards, her Special Costume is unlocked in Partner Customization. Selecting it will cause Android 18 to wear as part of her custom skillset. When selected while wearing it, Android 18 will reveal her displeasure of having to wear it by stating "Pointless... Right in your wheelhouse! You live for pointless stuff don't you?!".
Voice Actors
Japanese: Miki Itō
English:
Spanish:

Latin American Spanish dub: Cristina Camargo (DBZ), Mónica Villaseñor ✝ (Bio-Broly, DBZ Kai TFC, DBS), Lourdes Morán (DBGT), Anabel Méndez (DBGT ep. 31), Jocelyn Robles (DBZ Kai until Cell Saga), Karina Altamirano (DBZ Kai eps. 97-98)
Spanish dub: Ana Fernandez

Italian dub: Debora Magnaghi, Rosalinda Galli(Bio Broly Dynamic dub), Patrizia Salerno (Dynamic dub movies).
German dub: Diana Borgwardt (DBZ, DBGT, DBZ Kai, DBS), Ann Vielhaben (DBGT)
Polish dub: Agnieszka Wiśniewska (DBS)
Portuguese:

Portuguese dub: Cristina Cavalinhos
Brazilian Portuguese dub: Eleonora Prado (DBZ, DBZ Kai, DBS, and movies), Angélica Santos (DBGT, History of Trunks; redub), Teca Pinkovai (DBZ Kai TFC), Nair Silva (Battle of Gods; DVD dub only)

Catalan dub: Pilar Morales
Hungarian dub: Claudia Liptai (DBZ), Erika F. Nagy (DBGT ,DBS)
Tagalog dub: Klariz Magboo (DBZ, Redub), Charmaine Cordoviz (DBZ Kai)
Hebrew dub: Mirav Damari (DBZ), Orna Katz (DBZ, DBGT, DBS)
Greek dub: Matina Karra, Maria Plakidi (some Cell Saga episodes), Emi Stilianidou (DBGT), Maria Zisi (Bio-Broly, History of Trunks), Ifigenia Staikou (DBS)
Vietnamese dub: Linh Phương (DBZ), Minh Chuyên (DBS).
Battles
Dragon Ball Z

Android 18 vs. Vegeta (Super Saiyan)
Android 18 and Android 17 vs. Vegeta (Super Saiyan), Future Trunks (Super Saiyan), Piccolo, and Tien Shinhan
Android 18 and Android 17 vs. Biker gang (anime only)
Android 18, Krillin, and Android 16 vs. Cell (Semi-Perfect Form)
Android 18 vs. Cell (Semi-Perfect Form)
Android 18 vs. Krillin (Anime only)
Android 18 vs. Jewel
Android 18 vs. Mighty Mask (Trunks (Base/Super Saiyan) and Goten (Base/Super Saiyan))
Android 18 vs. Mr. Satan

Dragon Ball Super

Anime

Android 18, Tien Shinhan, and Piccolo vs. Beerus
Android 18 and Krillin vs. Goku (Base/Super Saiyan/Super Saiyan Blue)
Android 18 vs. Krillin
Android 18 vs. Cocotte
Android 18 vs. Sorrel (off-screen)
Android 18 vs. Shosa
Android 18 and Krillin vs. Shosa
Android 18 and Krillin vs. Majora
Android 18 and Android 17 vs. Kahseral
Android 18 vs. Cocotte
Android 18 vs. Paparoni
Android 18 vs. Catopesra (Whirlwind Speed Mode)
Android 18 and Android 17 vs. Brianne de Chateau (Ribrianne) and Su Roas (Rozie)
Android 18 vs. Brianne de Chateau (Ribrianne/Base/Lovely Love, Love Ribrianne)
Android 18, Goku (Base/Super Saiyan Blue) & Android 17 vs. Zirloin (Formation), Rabanra (Formation), & Zarbuto (Formation)
Android 18 vs. Gamisalas
Android 18 vs. Prum (Illusion)
Android 18 and Android 17 vs. Biarra
Android 18, Goku, Vegeta, Gohan, Android 17, Frieza (Final Form), and Jiren vs. Agnilasa
Android 18, Goku (Base/Super Saiyan God), Vegeta (Super Saiyan), Gohan (Base/Potential Unleashed), and Android 17 vs. Agnilasa
Android 18, Goku (Super Saiyan God), Vegeta (Super Saiyan), Gohan (Potential Unleashed), Android 17, and Frieza (Final Form) vs. Agnilasa

Manga

Android 18 vs. Prum
Android 18 vs. Ribrianne, Kankunsa, & Rozie
Android 18 vs. Gamisalas or Damon
Android 18 and Android 17 vs. Seven-Three and Shimorekka
Android 18 vs. Shimorekka
Android 18, Android 17, Gohan (Potential Unleashed), Piccolo and Jaco vs. Saganbo (Empowered)
Android 18 and 17 vs. Moro
Android 18, Goku (Perfected Super Saiyan Blue), Gohan (Potential Unleashed), Piccolo, Android 17, and Jaco vs. Moro (Transformed)

Dragon Ball GT

Films

Android 18, Trunks, and Goten vs. Lord Jaguar's Bio-Warriors
Android 18 vs. Bio-Broly
Android 18, Krillin, Trunks (Base/Super Saiyan), and Goten (Base/Super Saiyan) vs. Bio-Broly
Android 18, Tien Shinhan, and Piccolo vs. Beerus
Android 18 and Krillin vs. Gohan (Great Saiyaman) vs. Piccolo
List of characters killed by Android 18
Video games
Assists
Trivia
Android 18 is the first character to defeat a Super Saiyan in a fair fight.
Android 18 and Android 17's respective human names, Lazuli (18) and Lapis (17),[4] when put in order, is shown as "Lapis Lazuli", which is a deep-blue semi-precious stone prized for its color since antiquity. Android 18 is never shown revealing her birth name in the original series and, following her allegiance to the Z Fighters after the defeat of Cell, she is referred to as simply "No. 18". The same goes for her brother in Dragon Ball GT and Dragon Ball Super.
In Dragon Ball Forever's poll of the top 20 best characters, Android 18 was voted number 10 by Japanese fans. This makes her the highest voted female on the list by a wide margin.
In Dragon Ball Z, during the Imperfect Cell Saga and the Buu Sagas, her ki blasts are shown to be pink when she defends herself against Semi-Perfect Cell and during her match against Mighty Mask (Goten and Trunks). But in the movie, Bio-Broly and Dragon Ball GT her ki blasts are blue when unleashing a single ki blast to destroy Jaguar's tournament bracket meter and later her brother, Android 17 when she protects her older daughter Marron. She later unleashes her Energy Bullets towards Super 17 to assist Goku in defeating him.
When she appeared again during the Majin Buu arc, strangely, her eyes had a darker shade of blue compared to their appearance in the Androids and Cell Sagas, where they are greyish blue like 17's, also, her eyes had a less sterner shape than last time, this design for Android 18 is kept throughout the rest of Dragon Ball Z through Dragon Ball GT. In recent video games and cards featuring Android 18, her eyes were once again greyish blue and more sterner, for Battle of Gods, Resurrection 'F', and Dragon Ball Super, she is featured with teal blue eyes and eye design from the Buu Saga through GT.

In the 2nd opening of Dragon Ball Super for the Universe Survival Saga, she is once again featured this time with greyish blue eyes and sterner shape from the Androids Saga, also in the new eyecatch 2 of the series, she is featured with sterner eyes, possibly hinting and symbolizing her return to fighting, along with her brother, 17.

She thinks that Chi-Chi has a bad fashion sense because her entire wardrobe was filled with Cheongsams when raiding Goku's House.[18]
Android 18 had been killed twice by major villains through the series. By Super Buu when he turns her into chocolate and when Frieza blows up the Earth with his Earth Breaker, in both cases, she dies alongside her daughter, Marron.
Android 18 is capable of taking baths without short-circuiting herself, as shown after bathing, she comes out perfectly fine, this proves that cyborg-type "androids" can still bathe, without the worry of short-circuiting, since they are humans turned into cyborgs.

However it should be noted that when Bulma looked at the Android blueprints she revealed that 18 and her brother where modified with reconstructed organic matter and had very little artificial components (save for the ones that cause the Androids to shut down when the Shut Down Remote is used and possibly the Android Bombs however the latter was removed after the Cell Games) meaning there would hardly be any cybernetic components to short-circuit (and what little cybernetic components they did have would be internal and protected by their human body) and it is unlikely that a scientist like Dr. Gero would create advanced Androids/Cyborgs that would short circuit when exposed to something as simple as water which covers most of the Earth and would be a glaring weakness.
It should also be noted that in the real world the human body is made up of at least 60% of water for an adult male and 50% for adult females, thus if Human type Earthlings have the same biological composition as their real-world counterparts, then Android 17 and 18's internal cybernetic components would likely be designed to handle exposure to water and other chemicals found in the human body in order for them to function effectively.
It should also be noted that in the video games that feature underwater areas, all Androids/Cyborgs can fight underwater in the same manner as other characters.

In the Android saga, Future Trunks said that would call her cute if she was not that evil.
In the Tournament of Power.

Android 18 is the only female member of Team Universe 7.
Android 18 was the last remaining female fighter in the anime while she was the sixth of all 14 female fighters to be eliminated in the manga.
Android 18 was the one of the final 10 fighters in the anime. (In the manga, there are 45 fighters left in the stage when she was eliminated.)
In the anime, Android 18 has eliminated 6 fighters before she chose to sacrifice herself to save 17 from being eliminated. In the manga, Android 18's eliminated only 2 fighters and eliminated by Gamisalas' sneak attack while she's about to eliminate Brianne de Chateau, Sanka Ku and Su Roas.

There is some debate as to whether or not Android 18 and her brother are still alive 100 years after the events of Dragon Ball GT (particularly during the time of the 64th World Martial Arts Tournament and the events of the special Dragon Ball GT: A Hero's Legacy). While Dr. Gero states that the process of reconfiguring the siblings into cyborgs has made the two immortal,[19][20] this is contradicted by the special A Hero's Legacy, where it is narrated that Pan is the only character remaining from the generation of the original Z Fighters.
Android 18's blonde hair as well as her status as a notorious delinquent prior to Dr. Gero's abduction of her to turn her into a cyborg was most likely a reference to a known social taboo in Japan where Japanese children who dye their hair blonde are considered rebelling against their families, due to it being a sign of them becoming more Western.
Gallery
Main article: Android 18/Gallery
See also
References
↑ Dragon Ball Xenoverse 2, 2016
↑ 2.0 2.1 Chouzenshuu 1, 2013
↑ 4.0 4.1 4.2 4.3 4.4 4.5 "Dragon Ball Q&A" section, Dragon Ball Full Color Androids Saga volume 6, 2014
↑ 5.0 5.1 Dragon Ball chapter 160, "The Androids at Ease"
↑ Dragon Ball Kanzenban covers
↑ Dragon Ball Super: Super Hero; which uses manga colorations for characters
↑ Toriyama and Toyotarou artworks of 18 for Dragon Ball Super
↑ Daizenshuu 7, 1996
↑ Dragon Ball chapter 365, "Son Goku Awakens"
↑ 12.0 12.1 Daizenshuu 4, 1995
↑ Dragon Ball Super chapter 31, "The Super Warriors Gather!"
↑ Dragon Ball Z episode 260, "Feeding Frenzy"
↑ Dragon Ball GT episode 50, "The Five-Star Dragon"
↑ Dragon Ball Legends, 2018
↑ Dragon Ball Z episode 147, "Time Chamber"
↑ Dragon Ball chapter 349, "The Androids Awake!"
↑ "Yes. Now I have eternal life like you." - Dr. Gero, Dragon Ball Z episode 133, "Nightmare Comes True"