Anilaza (アニラーザ Anirāza) is the result of the fusion between several members of Team Universe 3.
Appearance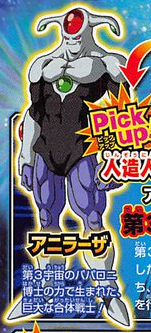 Anilaza is a gigantic humanoid with no visible nose and solid pink eyes with no pupils.
Its body has whiter layers on the skin on its head, neck, shoulders and chest area. In the center of its forehead is a large red gem which acts as its energy core, this area is also its weak point. On both sides of his head, are two elongated ear extensions with green gems underneath the tips that act as its sonar.
Its arms and the rest of its body is a darker color, ending at the base of the legs. The legs before the boots and hands at the base of the arm guards are purple. Its arms possess white shoulder guards with red gems on the top of the arms. In the center of its chest is a green gem.
It wears pointed boots and is able to grow wings on its back at will.
Personality
In the anime, the fusion between Paparoni and Koichirator at first glance appears to make Anilaza give the impression it is a mindless beast of destruction like Kale in her berserker state. Despite never speaking and seeming to be a berserker at times, Anilaza shows a surprising ability to adapt to the strategies of opponents, switching up attacks several times to throw them off. It appears to be very proud of his strength, as it wears a smile while fighting Universe 7, even laughing while at it.
In the manga, Anilaza demonstrates the ability to speak and is confident in its ability to match Kale's strength, in spite of the fact that he ultimately is defeated by her in a single blow.
Biography
Universe Survival Saga
Main article: Universe Survival Saga
In the anime, after Paparoni shouts that he will show Team Universe 3's ultimate secret technique an intense light appears, causing Goku, Vegeta, and Gohan to shield themselves from the light. Paparoni and Koichiarator then use Universe 3's Ultimate Secret Technique to form Anilaza. Anilaza proved to be more than a match for Goku, Vegeta, Gohan, Android 17, and Android 18 combined. It nearly knocked Goku out the ring, forcing Frieza to get involved in the fight. It then launched an energy attack that forced Android 18 to sacrifice herself to save Android 17. Afterward, it increased its strength further and created wings. Anilaza then created a giant energy ball in order to destroy the arena, and leave itself as the only survivor. When launching the ball, it engaged in a beam struggle with the remaining Team Universe 7 members and had the upper hand. However, Android 17 realized Anilaza's weakness and charged in to attack his energy reactor. This destabilized Anilaza's power, which led to him being blasted off the stage, defusing him, and causing Team Universe 3 to lose and be erased.
In the manga, after Universe 4's erasure after being defeated at the hands of Kale, Mule appears outside Mosco and commands Paparoni to fuse. Upon doing so Anilaza states that Kale has met her match, but is ultimately defeated by her in a single blow, resulting in Universe 3's immediate erasure.
Power
Anime and Manga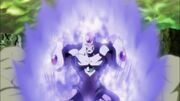 A fusion of Koichiarator and Paparoni in the anime or Bollarator, Koichiarator, Koitsukai, Paparoni and seemingly Nigrissi in the manga, Anilaza has absolutely monstrous power and is Universe 3's most powerful warrior.
In the anime, its power and speed have increased from when it was Koichiarator. Anilaza has a wide range of abilities and coupled with its physical strength and speed, making it a very dangerous opponent. Despite its enormous size, Anilaza was able to take on final form Frieza, Super Saiyan Vegeta, Super Saiyan God Goku (who was still fatigued), Potential Unleashed Gohan, Android 17 and Android 18 at the same time with relative ease and expertly track their movements thanks to its sonar abilities, though it was unable to catch Super Saiyan God Goku and final form Frieza. Even after powering up Anilaza's ki blast was effortlessly demolished by Jiren's blocking ki blast, showing he's much weaker than Universe 11's top fighter. During Anilaza's final energy clash with True Golden Frieza, Super Saiyan Blue Goku and Vegeta, Ultimate Gohan and Android 17, Anilaza was able to gradually overwhelm them and increase its giant energy ball more and more. It was defeated only when its power core was critically damaged.
In the manga, Anilaza is confident in fighting Legendary Super Saiyan Kale - telling her she has met her match, however she delivers a heavy kick to his stomach - causing him to fall backwards off the stage.
Techniques and Special Abilities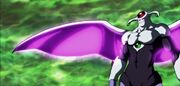 Video Game Appearances
Anilaza appears in Super Dragon Ball Heroes Mission 8.
Voice Actors
Battles
Dragon Ball Super

Anime
Manga
Trivia
Gallery
References