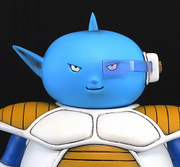 There is currently a total of 1 Abo collectible that has been released to date. A gallery and the attached information appends to the official release and genuine specifics in regards to the additional merchandise pertaining to each release.
Model Kits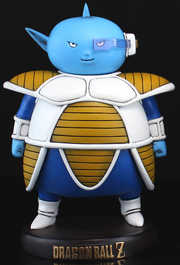 Resin-based model kit series
Release date: Unknown
This is a statue of spectacular detail, portraying Abo as he stands beside his comrade, Kado in a perfect stance in unison. His one horn is a distinguishing feature for this piece aside from his blue skin tone. Additionally, the scouter can be detached and attached to the sculpted base, which portrays the "Dragon Ball Z" title on the round surface in golden bronze letters. Abo holds an angry expression and maintains a confident smile. His mouth also differs from Kado's piece, which has impression on the lips. Abo's lips are a lining as opposed to the style used for Kado's. His ear also protrudes from the side of his head, placing great detail on the piece as well. Of course, the statue is a resin-based model kit and is limited in quantities as it is sculpted to perfection even for an exclusive fan-base.
Gallery
Community content is available under
CC-BY-SA
unless otherwise noted.