"A Rival Arrives!!" (ライバル?参上 !!, Raibaru? Sanjō!!, lit. "A Rival? Arrival!!") is the twenty-fifth chapter of the Dragon Ball manga.
Cover
The cover page features Master Roshi in a car, while Goku is on a hovercar alongside him. The cover is in color, and uses a red-gray-black color palette.
Summary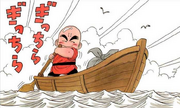 The chapter begins with Roshi discussing with Goku what kind of girl he wants the boy to bring him. After being shown a picture of Roshi's type, Goku sets off again, hoping to please Roshi this time. When he returns, Goku is revealed to have brought a beautiful woman to Kame House. Roshi, who is ecstatic, explains that Goku's first step into training is to get the woman's panties. However, the woman tells him she is only wearing a shirt, causing Roshi to get a nosebleed. Forced to show Goku how it is done, Roshi walks up to the woman, who turns out to be a mermaid. Roshi then asks if he may touch her breasts, which she replies with a swift punch to the jaw. Roshi turns this into a training lesson, in that you must take punches to get stronger.
As they discuss getting a third woman, Goku spots a boat near the shore with a boy on it. The boy jumps out of the boat, but ends up getting his head stuck in the sand. After Goku helps pull him out, he introduces himself as Krillin and requests for Roshi to train him. Although Roshi declines the request, Krillin hands him a Dirty Magazine, forcing him to change his mind. However, he must find a pretty woman along with Goku before he takes him on as his student. As Krillin jumps onto the Flying Nimbus, he falls through the little cloud, causing him to explain his intentions of training: to be popular with girls...
Appearances
Characters
Locations