A Devastating Wish (

謎のDB出現!!悟空が子供に!?

 Nazo no Doragon Boru Shutsugen!! Gokuu ga Kodomo ni!?, lit. "Mysterious Dragon Balls Appear!! Goku Becomes a Child!?") is the first episode of the Black Star Dragon Ball Saga and the first overall episode of Dragon Ball GT. The episode first aired on February 7, 1996. Its original American air date was February 5, 2005.

Summary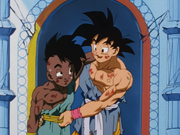 Five years after Goku and Uub left the 28th World Martial Arts Tournament to train, Uub has an all-out battle with Goku within the depths of Kami's Lookout, which causes it to crack and crumble under their power. Upon finishing their battle, the two pass out from exhaustion.
Meanwhile, after decades of persistence, Emperor Pilaf along with his two henchmen, Mai and Shu, arrive at the Lookout in order to obtain the Black Star Dragon Balls. Finding them, Pilaf explains that these balls are different from the Earth Dragon Balls and much more powerful.
With Dende having healed their injuries. Uub thanks Goku for all the years he dedicated to training him and heads back home to his family. After having a hearty meal, Goku also decides to head home and tells Dende and Mr. Popo that he hasn't been home for so long and believes that Chi-Chi is going to be mad at him again. Just then, Pilaf summons Ultimate Shenron. Before Pilaf can make his wish for world domination, Goku encounters the Pilaf Gang when he goes to investigate the source of the disturbance.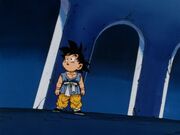 After a brief confrontation and discovering that Goku looks very familiar, Pilaf accidentally wishes for Goku to reverted back into a child so he can beat him up, unaware that Ultimate Shenron is listening. Ultimate Shenron grants Pilaf's wish and turns Goku back into his 12-year-old self. Ultimate Shenron then leaves and the Black Star Dragon Balls scatter.
After Dende contacts King Kai telepathically, he tells Goku that the only way for him to return to normal is to have another wish granted, but Mr. Popo explains that when the Black Star Dragon Balls scatter, they head across the entire universe instead. Goku then says that he actually likes being a kid again and thinks it's no big deal, much to the obvious dismay of Dende and Mr. Popo.
Back on Earth's surface, Goku attempts to eat another meal but is disturbed by a hostage situation. Nearby, Pan is out a date with Poperu when she stumbled across the situation.
The criminals begin to cause havoc and an annoyed Pan intervenes, but shortly afterward, Goku arrives and attempts to take them on himself, which causes Pan to pull him aside and tell him not to get involved, not realizing that it is actually her grandfather. Pan takes out all the criminals easily with her strength, scaring off her date.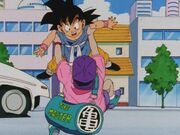 Suddenly, Master Roshi arrives and greets Pan and recognizes Goku before asking Goku why he's gotten so small. Goku tells Master Roshi that Emperor Pilaf summoned Ultimate Shenron and accidentally made a wish to turn him back into a kid again before asking if Chi-Chi is going to be mad at him for being gone for so long. Pan becomes shocked and horrified as she discovers that the little boy is her grandfather, Goku.
Goku returns to his home, where Chi-Chi cries after seeing her husband as a child and Gohan questions what Goku will do next after Goku tells his family of what happened. King Kai interrupts to tell them that, if the Black Star Dragon Balls are not found and returned to Earth within a year, the planet will explode due to the negative energy they give off. This grim news leaves everyone uncertain as to what they'll do next...
Major Events
Uub finishes his training with Goku and heads back home.
Goku is turned back into a child by Ultimate Shenron.
King Kai explains that the Black Star Dragon Balls must be gathered or Earth will explode in one year.
Battles
Goku vs. Uub
Goku and Pan vs. Criminals
Appearances
Characters
Locations
Objects
Trivia
Gallery
Community content is available under
CC-BY-SA
unless otherwise noted.