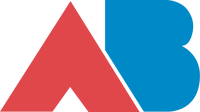 The AB Group (nicknamed Big Green Dub by fans) is a French business group in the field of broadcasting responsible for the dubbing of the movies in 2003 for UK audiences. The dub is notorious among fans for the script and the changing of character's names (for example Piccolo is known as Big Green). Despite being aired on Toonami, only the movies Dragon Ball Z: The Tree of Might, Dragon Ball Z: The World's Strongest and Dragon Ball Z: Lord Slug were distributed on DVD due to poor sales. However, movies 2 and 3 of Dragon Ball, the first nine movies and two specials of Dragon Ball Z were dubbed by this company. They were released in the Netherlands, the United Kingdom, and Ireland on VHS and DVD. Some of the names of the films were changed, but most resembled the Japanese film titles. It was founded in 1977 by Jean-Luc Azoulay and Claude Berda as a music production company, and in 1987 went into the world of television.
This company is also known for collaborating the series episodes for the Westwood Dub with Ocean Productions (Westwood Media) for Dragon Ball, Dragon Ball Z (123-291), and Dragon Ball GT.
AB Film Titles
DB Movie 2 - Sleeping Beauty in Devil Castle
DB Movie 3 - Mystical Adventure
DBZ Movie 1 - In Pursuit of Garlic
DBZ Movie 2 - The Strongest Guy in the World
DBZ Movie 3 - Super Battle in the World
DBZ Movie 4 - Super Saiya, Son Goku
DBZ Movie 5 - Super Rivals
DBZ Movie 6 - Fight! 10 Billion Power Warriors
DBZ Movie 7 - Super Battle of the Three Super Saiyans
DBZ Movie 8 - The Burning Battles
DBZ Movie 9 - Super Guy in the Galaxy
DBZ Special 1 - The Father of Goku
DBZ Special 2 - Gohan and Trunks
See also
Community content is available under
CC-BY-SA
unless otherwise noted.