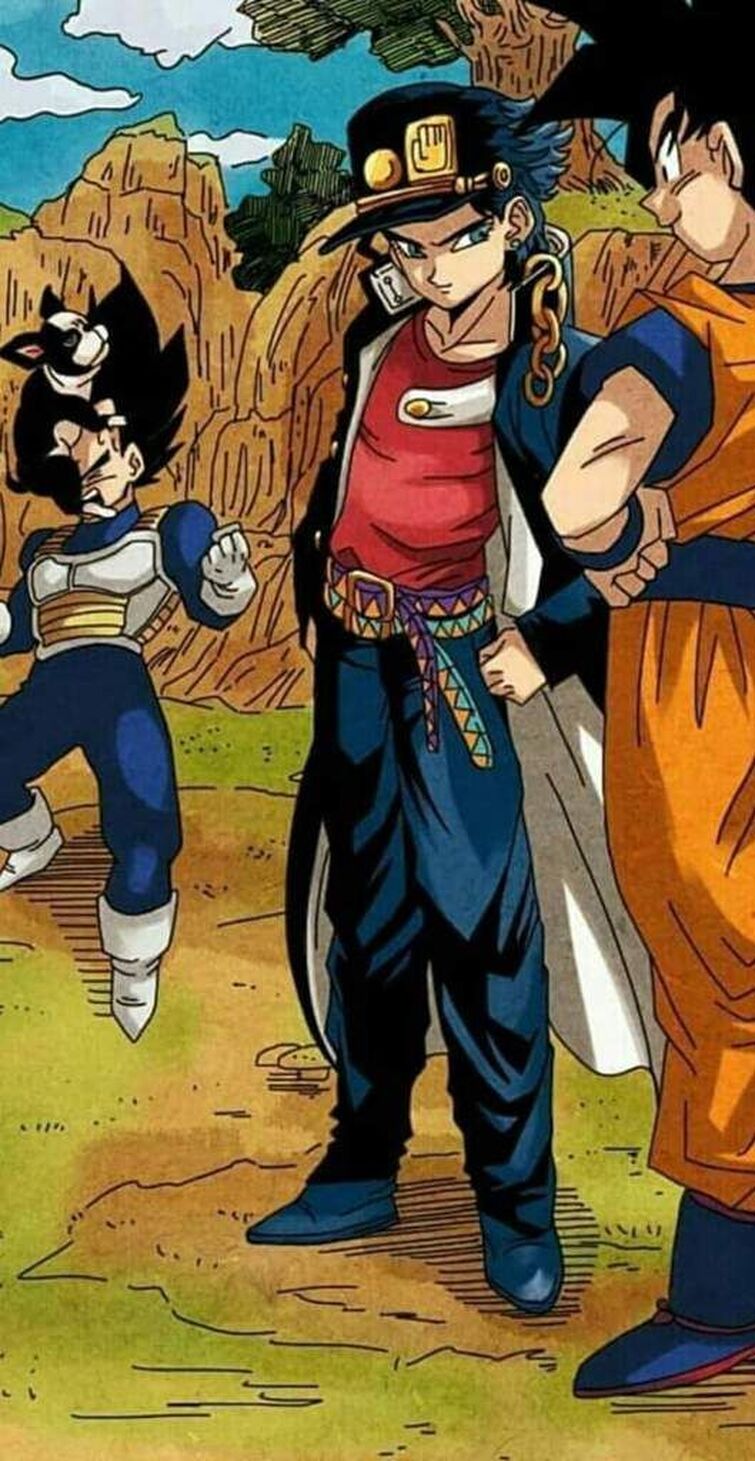 As we all know, it's not uncommon to see Jotaro versus Goku debates. A lot of people say that Goku can defeat Jotaro and Star Platinum, but then again, Goku is Universal in strength currently (Arguably stronger than that still!) But my question isn't exactly IF Star Platinum can beat Goku, but when he was surpassed by Goku. As such, I plan to do a little math to see what the power level of Star Platinum is, using what I believe is his strongest feat in the anime, compared to Dragon Ball's standards of Power Levels. Please stay with me as I continue.
The feat I plan to use is Star Platinum versus the Muda Muda Road Roller.
https://www.youtube.com/watch?v=-s4KJBt5Egc
As we can see in the clip, Star Platinum stops the Road Roller with a single arm's force. So we need to understand how many pounds of force Star Platinum put out to stop that Road Roller.
First off, the equation for force is always Mass times Excelleration. So I will do that.
To start with, a normal road roller weighs about 20 US Tons, and in America, a Ton weighs 2000 Pounds. This means that the Muda Muda Road Roller weighs 40,000 Pounds. Then, we also have to take into account DIO's weight, which is 240 Pounds. So the weight of the objects put together is 40,240 Pounds. As an object falls to earth, it's mass is not taken into account, and the maximum velocity for ALL objects is 118 miles per hour. But before we put it all together, we also need to take in one last thing. DIO was carrying the Road Roller on his back, so this means that the force of gravity was being defied. So considering that DIO was pushing it down as he dropped it, Maximum velocity would have been exceeded by enough speed that would have pushed the object up. The weight of keeping it up is equal to the weight of the object, so DIO would have needed 40,240 Pounds of force to keep the Road Roller in the air. So now we can begin multiplication.
DIO + Road Roller x Terminal Velocity x Force required to defy gravity.
As such, this is what the weight of the Road Roller would have been to Star Platinum's arm, and the force that would need to be excluded by Star Platinum to stop it's fall.
191,072,396,800.
That means, that in his punch, Star Platinum can put out force equal to 191,072,396,800 Pounds of force. Now, let's see what a Normal Human can put out in Pounds of Force.
According to my calculations, an average human can punch at most, 85 Pounds per square inch (Trained boxers punch harder) and the human hand is about 4.5 square inches, putting the pounds of force at 382.5, or to simplify, 382 pounds per square inch. Sta Platinum's punch by the normal punch of a human and you have 500,189,520. This means Star Platinum is 500,189,520X stronger than an average human.
Now, on to Dragon Ball equation. The average human has scaled according to Raditz's Scouter as a Power Level of 5.
https://www.youtube.com/watch?v=sM0z0lD3iA0
This means we must multiply the amount of times that Star Platinum is stronger than a human by five, and we'll have his Power Level according to Dragon Ball Logic.
The multiplier is... 2,500,947,602
Already this puts Star Platinum beyond Goku on Namek when he was Super Saiyan. There, Goku was 150,000,000 confirmed. From here, he grew all the way to the Cell Saga where we don't get much of a multiplier. However, giving what Cell was, and that Gohan could match it, Goku would be half of what Cell was, and Cell stated that he had enough energy to destroy the solar system.
According to the series it's self, Vegeta claimed to by planetary in canon on earth with a Power Level of 24,000. The Sun makes up most of the mass of the solar system, with, like, 0.2% of it being anything else. Now, all things considered, the sun is bigger than the earth, but it's mass per square inch is lower. In accordance to math from reality, the sun is 333,000X the mass of earth, so Cell Saga Solar Level is 24,000 multiplied by 333,000X
So Cell should have been at a power level of 7,992,000,000. This surpasses Star Platinum, but considering that both Cell and Gohan were in Super Saiyan 2, a form Goku did not yet possess, this means that Goku's max power level had to be 3,996,000,000 which is still higher than Star Platinum, but in the scheme of things, not by much. Goku in the Cell Saga would be about 1.5X stronger than Star Platinum.
Also, fun fact, according to Dragon Ball's tiering system, Star Platinum has the ability to tank an attack with the ability to destroy 166,500 planets the size of Earth.
So, all in all, Star Platinum has the ability to harm Goku up to the Cell Games, where his Time Stop (Which Goku can't escape at this point in time) would make Star Platinum more than equal.
The Power Level for Star Platinum is 2,500,947,602.
You heard it here from Ya Boi King Kai. But also, according to Dragon Ball Super's Manga, Vegeta in Super Saiyan at the Tournament of Destroyer's arc, was barely strong enough to lift 1000 Tons. And that was without 2,000,000 pounds... with BOTH hands... and his entire body... And this is post godly training... (DBS Manga' power scale is crap). But according to the math, Star Platinum actually IS strong enough to hurt Goku. So it isn't impossible to defeat him with Star Platinum in Jotaro's Prime, especially with the level of hax abilities such as time stop in the series.
...Or Star Platinum could just stick his hand in Goku's chest and stop his heart. That is a Canonical way Star Platinum can beat Goku... Goku did have heart problems during the Androids arc that almost ended his career for good.