...Here I am....trying to make a theory......this may end badly. LOL!
It's about Broly.
.....And Goku.
*Deep breath*
While reading through the Broly page, I realized that Dragon Ball CANNOT get height correct. Here is an example:

In Base Form, they say that Broly is 7 foot, 7 inches tall. IN BASE FORM.
There is estimated to be only around 70 men in North America to be 7 foot or taller. It is EXTREMELY rare, to say the least.
As for Goku:
They say that he is 5 foot, 9 inches tall by the end of Dragon Ball. Now, I know that when Dragon Ball ended, Goku was still a kid. Only being 16 years old. The average boy has a major growth spurts between 10 to 15 years of age. And they usually stop growing in general by age 16, only looking fully grown by age 18. Now, I know he's a Saiyan, and Saiyans don't age as fast as humans, but Goku was already 5'9". Giving leeway due to Goku being 16 at Dragon Ball's end, he could have grown a few fractions of an inch by the time of Dragon Ball Z, rounding it up to 5'10".
The National Center for Health Statistics did a study on the average height in males. This is what they had to say:
"The average height for men has been tracked over the years and has been increasing. Looking at the broad average across the United States, the National Center for Health Statistics has reported that the average height for an adult male is 69.1 inches (175.4 centimeters), or roughly 5 feet 9 inches."
(This is as of August 7, 2019)
Goku checks out, but Broly still doesn't.
Exhibit A: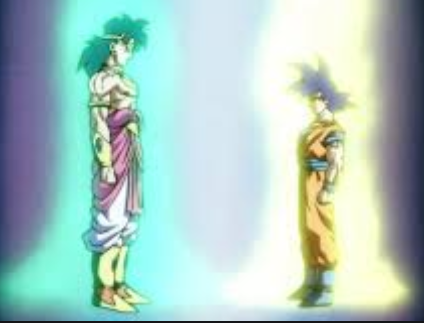 Their height seems to be a bit short for a 2 foot difference.
If this were in real life, one of the two would be HORRIBLY miss-proportionate.
I know this is an Anime, and you can't take much stock in proportions...but...just imagine.
This...
Would look like this....
I title this hypothesis...."Miss-Proportioned Lamb Sauce".
As I continued watching Dragon Ball Z: Broly The Legendary Super Saiyan and Dragon Ball Super: Broly (The Wiki lists DBS Broly as the same height as DBZ Broly), I realized something. ...They can't keep any height difference straight.
Exhibit B: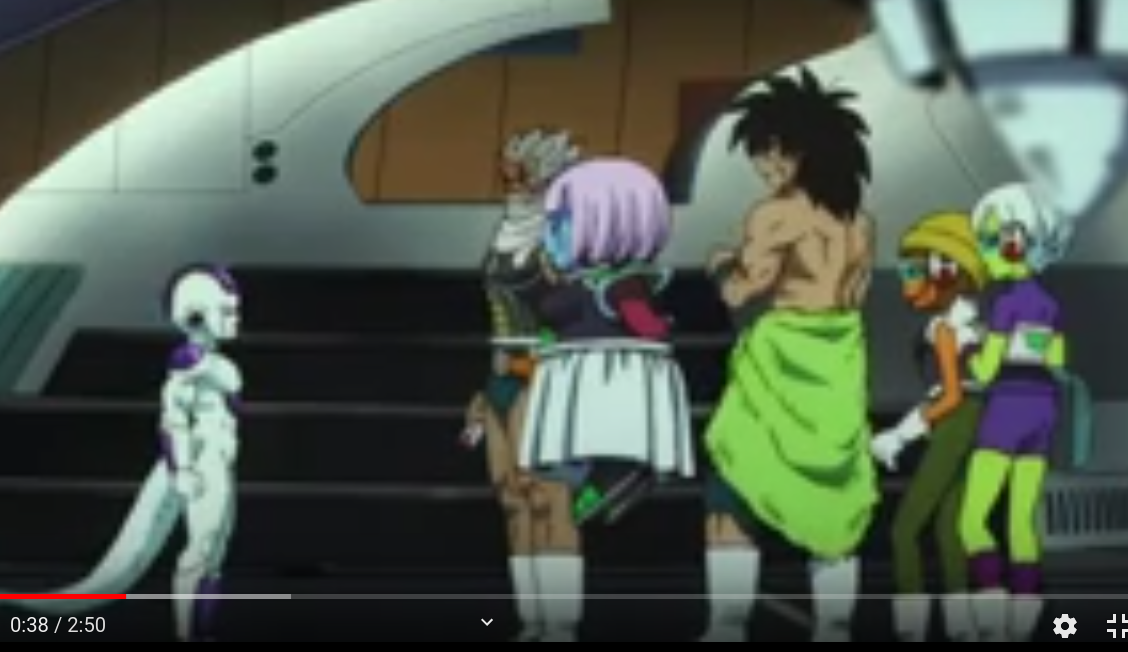 Frieza. Here, he only looks to come up to the bottom of Broly's rib cage.
According to the Wiki...

Frieza is 5 foot, 2 inches tall in his Final Form.
If that's right, then these are VERY off. I have a real life example.
I am the exact height of Final Form Frieza (5'2"), and my brother is the exact height of Goku (5'9-10"). Yes, there may be occasional role playing in our house. LOL! But that's beside the point. I come up to his chin. And as shown above, Frieza doesn't even reach Son-Kun's collar bone.
If Frieza is that much shorter than Goku, and he comes up to Broly's rib cage, than that means that Kakarot would come up to Broly's mouth. In Exhibit A, Goku only comes up to Broly's collar bone.
And Vegeta...

He is 5 foot, 5 inches tall.
Exhibit C:
He shouldn't be THAT tall, right? He should only come to Goku's mouth.
Yet, there he is. With that confused scowl, reaching the eye of Kakarot.
Bulma...
Is 5 foot, 5 inches tall, as well. But she has a centimeter on her husband.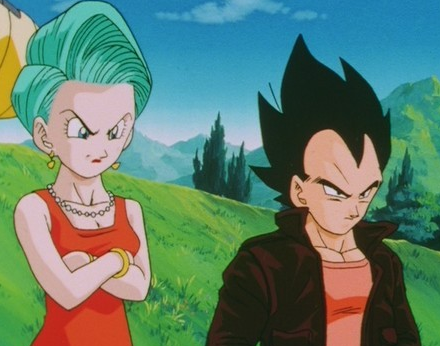 That seems like a bit of over kill. They would be considered the same height unless you live in Canada, or something.
Dipper Pines would agree. They should practically be the same height.
But, then I saw this.
Mr. Troll doll is, at the least, 1 inch taller than Bloomers.
I'm sure I could put trunks into this, but I think that I've made enough comparisons.
While there may be several errors in height difference, Dragon Ball is still a good quality show. (Minus the first few episodes of Super. LOL! I heard those looked ROUGH! XD)
I hope that you all enjoyed reading this as much as I did making it. You learn a lot when you write these. Thanks for reading, and my apologies for dragging this out for so long.
You know, I wonder if they count their hair when figuring the height.